OHS Student Section is back for football!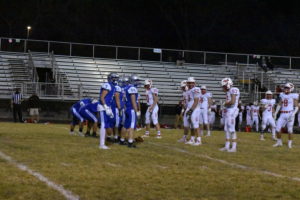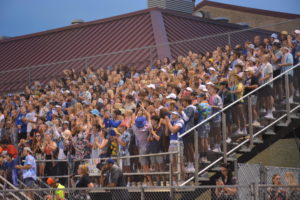 ---
Due to COVID-19 restrictions, football fan attendance was held to a minimum during the 2020 season. Maximum capacity was set at 250 for the majority of the 2020 season, each player was given two  tickets and the remainder of the tickets were given out to families of cheerleaders, managers and coaches. This resulted in most OHS students being unable to attend football games and those who had the luxury were required to wear face coverings and social distance. This is when the importance of Owatonna Football became very evident. Students would park in the southeast parking lot, located behind the visitors section and look through the fence in order to catch a glimpse of the Huskies' season. Most adult viewers were forced to watch via live stream.
This season however is back to "normal", meaning fan attendance will be allowed without regulations on attendance. . This is making OHS students very excited, after having a year of rules and restrictions the fan attendance is believed to be at an all time high. This was displayed Friday, Sept.3 at Rochester Mayo High School when Owatonna had an exceptional student presence. Huskies linebacker Coach Jerry Eggermont said, "There is tremendous electricity and it truly excites our team." The liveliness of the OHS student section is recognized by those on the field as well. Seniorfootball captain Grant Achterkirch said, "The upbeat atmosphere brings energy to the game." 
After a game one loss to the Spartans, tension was rising as the Huskies looked to redeem themselves against the Rochester Century Panthers at Owatonna High School in the 2021 home opener. This game took place on Friday, Sept. 10. Owatonna was able to scratch out a win after getting a crucial stop late in the fourth quarter and the Huskies student section once again made their presence known. OHS Senior Noah Hodgman said, "I am glad I am able to be there and support my friends and classmates for our senior year." The student section attendance was proof that students have been thrilled to attend this year's home opener. Senior Audrey Hylle said, "I'm really excited about being able to go to football games this year. I think everyone is having a good time in the student section and we are having fun being able to cheer and have a good time together again."
The Owatonna Huskies will be taking the field again this Friday Sept. 17, at Mankato West High school at 7:00 p.m.
About the Contributors
Evan Dushek, Writer
Evan Dushek is a senior at Owatonna High School, it is his second year on the Magnet staff. Dushek is a member of the OHS Boys Basketball team and is also...
Callie Kreutter, Writer
Callie Kreutter is a senior at OHS. Besides Magnet, she is involved in the dance team and Just For Kix dance studio. Kreutter has been dancing for 10 years...