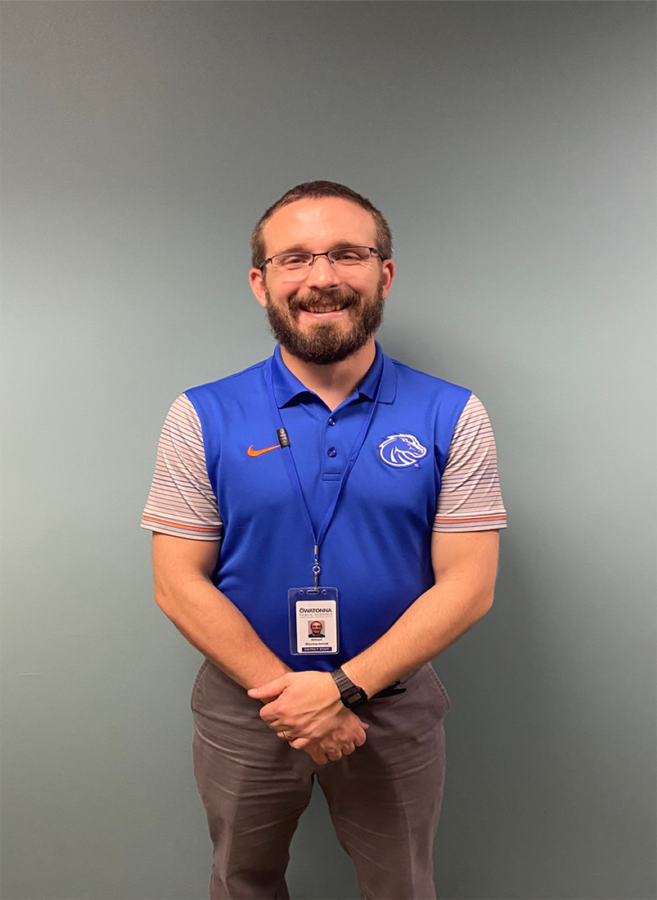 Health and physical education department welcomes a new start
The OHS is welcoming Mr. William Blechschmidt as the newest health and  physical education (PE) teacher. This is his seventh year as a teacher. During his first three years of teaching, he taught chemistry, physics and biology in Kentucky. In the last three years of teaching, he continued to teach chemistry and physics in Idaho.
Mr. Blechschmidt's interest in becoming a teacher began in high school when he was involved in a leadership program. He did this program his junior year. That same program allowed him to co- teach P.E. classes his senior year. Mr. Blechschmidt grew up not knowing if he wanted to be a health teacher. He finally realized after working at a summer camp he was really good at teaching both. He also realized that he wanted to change the way health was taught.
Outside of school he is a full time dad with a two year old and a newborn. He enjoys spending time with his family. Mr. Blechschmidt is enjoying his time at OHS so far, he said, "I am loving teaching health right now. I think it's a very important subject, and that is applicable to your everyday life."  
A goal for him is to broaden and update the health curriculum with health teacher Ms. Michaela Raney. Another goal for Mr. Blechschmidt is to get to know as many people as he can by the end of the year. Mr. Blechschmidt said his favorite thing about teaching was that  "Seeing students excited and passionate about something that really matters, it is also getting to see those light bulbs turn on." 
He commented that students he has, have shown a lot of participation and interest towards the class. Sophomore Jayden Omangi said, "He's a good teacher and his class is straightforward and easy to understand."  Students can find Mr. Blechschmidt at C-210.