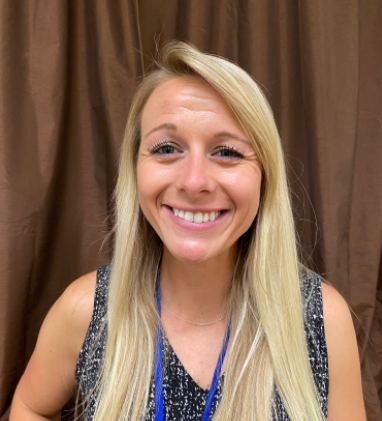 Art teacher Ms. Allysha Bowers joins OHS staff
Ms. Allysha Bowers is joining OHS this year as the new Art I teacher. Ms. Bowers previously taught in Stillwater for two years, in the Tri City area for two years and then in Owatonna at Wilson Elementary for six years. Ms. Bowers attended college at Luther College in Decorah Iowa, originally majoring in music and later switching into art after an encounter with singer Jesse McCartney, who liked a piece of her art she had shown him. After teaching elementary for six years, Ms. Bowers felt like she needed a change of pace. She said, "I've always enjoyed the upper levels and wanted to try teaching the older kids because I know that they are more advanced and can do more things and take my career to the next level". This year, Ms. Bowers will have the opportunity to teach those higher level students.
One thing that Ms. Bowers is excited to see in her first year at OHS is the creativity her students will have with her projects she has planned for this year. She said, "I'm really excited for their final because they have to make three different art pieces and they all have to have the same subject in it and they have to use the same materials. I'm really excited to see how the kids are going to implement that and show their creativity and how they're going to put it together and they have a lot of freedom in what they get to choose." 
Ms. Bowers loves to joke around with the kids in her class and she's very excited to build new relationships with her students. She said, "I think it's the most fun at the highschool because they're older and you can communicate better and we do a lot of laughing and talking about stuff that you can't always talk about with the little kids, but just getting to know them and the jokes and building the relationships has been great." On what Ms. Bowers' classroom environment is like, freshman Zoey Klesh said, "Bowers and her entire class is very chill and it doesn't feel very strict. I have lots of creative freedom in her class compared to the last time I had an art class." Ms. Bowers allows her students to artistically thrive by providing them with creative freedom in the classroom.

In her free time, Ms. Bowers likes to spend time with her family and stay active. She said, "I enjoy running. I also enjoy spending time with my son and we also like to do things like go swimming and go to the water parks. We'll watch a lot of Nailed It on Netflix. We do that as a family." Ms. Bowers has experience with coaching sports, but she is not coaching any sports this year. Ms. Bowers said that if she were to coach a sport it would most likely be softball or basketball since those were her favourite sports to play when she was growing up. 
Ms. Bowers's message for OHS and her students, she said, "Don't be afraid to be who you are and express who you are and enjoy who you are, because you're the only person that is you and you have something great to offer the world in some way shape or form." By supporting her students' creativity and expression, Ms. Bowers will find success in the art department at OHS. Ms. Bowers' classroom is located in room A-209.