Bump, Set, Spike, Hoco Volleyball
Sand volleyball is a homecoming event put on by OHS Student Council as a fun bonding experience for the student body. The tournament was held on Monday, Oct. 4, at the Lava Burger sand volleyball courts. In past years, sand volleyball has drawn a big crowd and has been one of the favorite homecoming events. On Thursday, Sept. 30, OHS Student Council Adviser Ms. Sandra Justice said, "As of this morning we have five full teams of ten people, we're hoping to get eight teams and have 80 to 100 students at sand volleyball." Her hopes soon became reality. By the time the tournament came around, there were ten teams signed up. They all came eager and ready to play.
The tournament started with lots of cheering and excitement. This excitement continued and morphed into more competitive emotions throughout the games. One of the most excited players, senior Jacob Reinardy said, "It's a lot of fun coming here after school on homecoming week and just playing with your friends." Reinardy's team ended up taking third place in the tournament with a record of 2-2, but it was not all smooth sailing. Reinardy said, "We weren't communicating well right away, but then we learned how to do it and we started winning." For Reinardy's team, communication and teamwork was the key to their success.
"
Teamwork and talk, talk, talk, it's all in your talk.
— Grant Achterkirch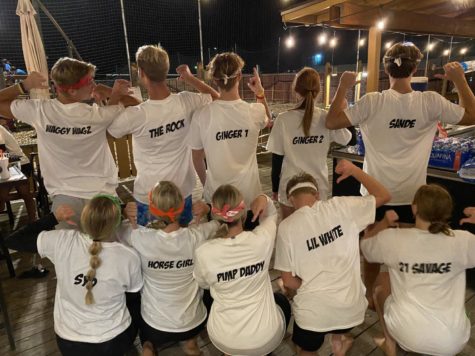 Teamwork and communication proved to be a powerful factor of the games as the night went on, and senior Grant Achterkirch credits their success to those things. Acterkirch said, "Teamwork and talk, talk, talk, it's all in your talk." Achterkirch's team ended up taking first place in the tournament with a record of 3-0. However, winning was not everything. Achterkirch said, "The best part of the night was hanging out with the boys." This is really what sand volleyball was all about, bringing friends together for a fun night filled with excitement and school pride.