A splash of the swim season
Owatonna Girls Swim and Dive kicked off their season with a bang. The girls are working hard to reach their goals and can't wait to see how the season progresses.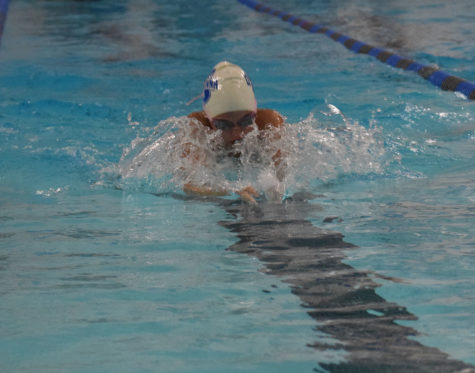 Many girls are looking forward to the boost of energy that taper will provide, especially after working so hard this season. Senior Captain Kate Seykora said, "I'm really looking forward to seeing how everyone tapers." The girls on the team are also looking forward to tapering, a process in which they drop yards per day and gain more energy before Big 9 and Sections. Even without tapering, the girls are doing a great job. Assistant Coach Ms. Tara Lammers said, "The girls are working hard and we are seeing a lot of great time drops and great scores for the divers. Halfway through the season they are still going strong, the girls are continuing to take leaps and bounds in their own personal gains in the season." 
This year's team has a very large group of new girls joining with a stunning 16 girls. Mr. Isaiah Fuller, the Owatonna Girls Swim and Dive coach, said, "Some of the other events that seventh graders don't typically do into because they see you (the sophomores, juniors and seniors) guys doing that kind of thing and that's kind of the expectation put on them so it's exciting to see that change in culture."
 Not only are the seventh graders doing an amazing job on the time, they are doing a great job cheering on and pushing on their teammates. Fuller also said, "We've had a lot of young girls, step up, you know like our 500 free crew." The oldest girl being a sophomore, lots of the younger girls have stepped up into one of the longest and toughest races there is. 
Swim and dive is just under halfway through their season. They're looking forward to not only tapering but continuing with meets and are excited for parent night, senior night, Big 9 and Sections. Their next meet is Thursday, Oct. 7 at 6:30 p.m. at the Owatonna Middle School.