Serving up second chance breakfast
Breakfast is considered by many to be the most important meal of the day. The staff of OHS strives to provide every student with a nutritious breakfast every morning. During the 2020-2021 school year, the U.S. Department of Agriculture (USDA) signed a free lunch program for all students across the country to help families deal with the hardships of the COVID-19 pandemic. Back in April, the USDA announced that it would be extending the plan for the 2021-2022 school year. At OHS, they provide free breakfast and lunch for students to keep them full throughout the day and help them maintain proper focus.
The pandemic brought free breakfast and lunch to OHS, but due to COVID-19 protocols, it also took away the beloved second chance breakfast. The different protocols and no eating in the classrooms made the grab and go breakfast concept unreasonable to have throughout the year. This year, however, second chance breakfast has not returned even with fewer restrictions. Part of the reason it has not been reimplemented is due to the past issues caused by the long lines of second chance breakfast. Principal Mr. Kory Kath said, "What we found is that at second chance there were a lot of students selecting that over the early morning one, so then we had issues of tardiness in class." Without second chance breakfast, students are forced to get to school on time if they want to receive breakfast. On top of that, they are not going to be late for their second hour class due to long breakfast lines.
But for students, second chance breakfast offered many benefits to their learning experience. A survey was sent out on Friday, Dec. 3, asking students if they want to see second chance breakfast make a return at OHS. There were 126 total responses, and an astounding 122 students voted "yes", they want to see OHS bring back second chance breakfast, while only four students voted "I don't care" and zero students voted "no". Additionally, there was a poll put up on Instagram on Thursday, Dec. 2. The poll received 116 responses with 105 people voting "yes" and only 11 people voting "no". The students, then, were asked to provide a reason for why they wanted it back. There were many different reasons, but a couple of answers stood out. 
The main reason provided was the time restraint before students' first hour class causing them to miss breakfast or be late for their first hour. Sophomore Miah Jones said, "I think it is important to allow students that come in later to get a healthy breakfast. If they miss the first breakfast they are expected to go through their day hungry until lunch, and some students have D lunch." Without a second breakfast option, students have noticed the morning breakfast lines have become much longer than before, so they determined it is not worth the wait. Also, many students do not have a first hour class; therefore, they are unable to take advantage of the amenity of OHS breakfast. Students should not be denied a free breakfast for showing up late or not having a first hour class.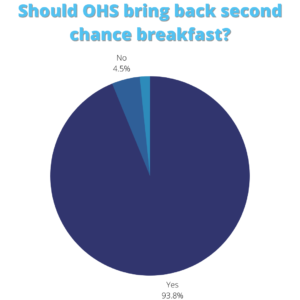 The factor students enjoyed the most about second chance breakfast was the convenience of it. Senior Gavin Dewitz said, "When second chance breakfast was a thing I would be able to walk past it every day and just grab something quick to eat in my next class since I didn't have enough time before school." The grab and go concept allowed students to have something quick in between classes, instead of passing up breakfast all together. It also allowed students to eat their breakfast in second hour, which is important because some students have first hour classes where eating is frowned upon. Senior Jake Seykora said, "Band and choir students could eat during their second hour instead of during their first hour in which they are singing or playing their instruments."
School performance has a lot to do with the ability to focus, and learning on an empty stomach hinders a students' ability to do so. When students have to wait till lunch to eat a meal, their classroom performance drops tremendously. Junior Haleigh Schmidt said, "Second chance breakfast gives the opportunity to kids who aren't willing to get there before the line shuts down to be able to have breakfast. And then later in the day, all the kids can think of is eating food rather than paying attention in class." Many students get hungry in between breakfast and lunchtime. Rather than being hungry until lunch, second chance breakfast fills this void, helping students maintain their focus and energy throughout the day.
"
I do want students to have access to food and have what they need. The flip is getting students what they need versus making sure they are also getting to class and focused on that."
— Principal Mr. Kory Kath
In order to bring back second chance breakfast, there must be adjustments made to the old system to solve the issues of tardiness. Mr. Kath said, "I do want students to have access to food and have what they need. The flip is getting students what they need versus making sure they are also getting to class and focused on that." The students have resoundingly voiced their opinion for second chance breakfast to make a return. The positives of second chance breakfast outweigh the negatives; therefore, it is time for OHS to bring back second chance breakfast.
About the Contributor
Preston Meier, Writer
Preston Meier is a senior at Owatonna High School. This is his second year being involved in OHS magnet. Meier is a captain of the cross country, hockey,...