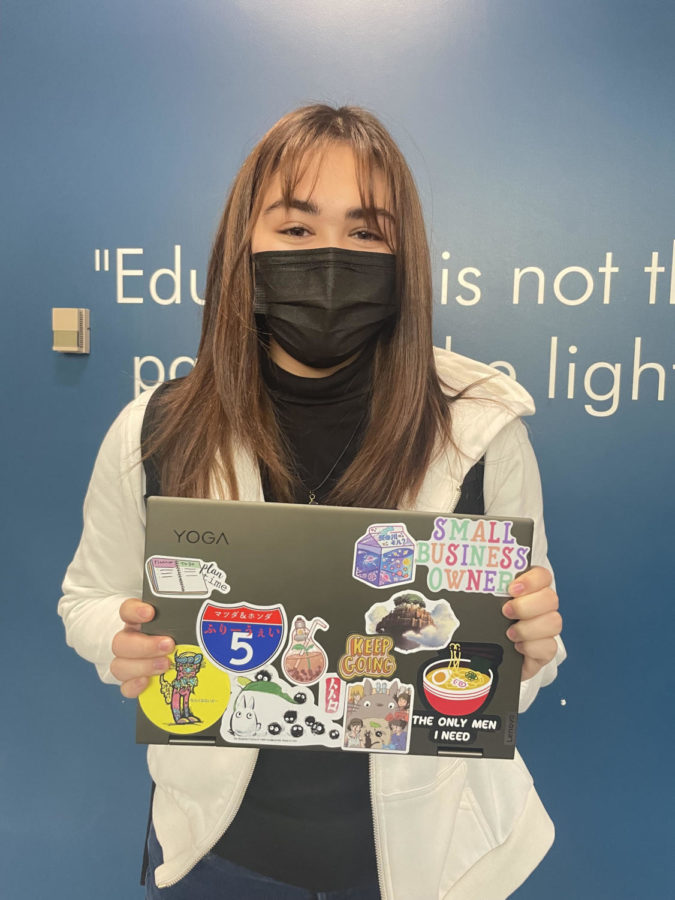 Senior Julia Christenson
"Most of them or at least some of them I got from Hot Topic, some of them I just find at like coffee shops or just different stores that have stickers. I choose them if they resonate with me, I guess or if they're kind of funny. So, I love Studio Ghibli or if I just kind of like the art, like the jokes. (Plan Time) I love organizing things, so that's like one thing I guess. And then this one (Yellow) I got from a restaurant in California. It was an Okinawa restaurant, and that's the island where my mom's from in Japan, and they gave it to us for free so I put it on here but it's kind of falling apart. (Small Business Owner) I found in Prairie Home in Blooming Prairie, that's where I sell some of my jewelry. I got matching ones for me and Alyssa (Christenson's business partner), and I thought it was kind of nice because it's kind of like a small business owner sticker in a small business, I guess. But yeah, otherwise I just kind of like to choose it if I like the art style or if it's something that I like or is something kind of like representing me, I guess."
What's your favorite sticker?
"I would say this one (Studio Ghibli) because it kind of shows all the Studio Ghibli characters. It's really cute."
What's your most meaningful one?
"Probably this one (Yellow), he says 'Nankurunaisa', and that's kind of like Japanese Okinawan dialect. So it's kind of like showing more of my culture, and the cultural part of me."
Why do you put stickers on your laptop?
"I guess to kind of, like, personalize it a little bit and just kind of add some pizzazz."