Underclassmen making a difference
As the OHS Boys Lacrosse team prepares for their next game, the season is still young. With a 2-3 record and over half a season left, the Huskies still have room for a successful season. 
The team has a lot of young talent, and they are optimistic about where this will take them through the rest of the season. Coach Scott Seykora said, "We have had a lot of underclassmen step up on varsity." Currently, there are three freshmen and five sophomores that are contributing a significant amount of playing time and effort to the team's success.Senior Captain Preston Meier has been leading the team's success with 16 goals, and sophomore Jack Strom has 11 goals across five games. Coach Seykora said, "[My] favorite memory so far is our come-from-behind win against Rochester Mayo when we were down three goals in the fourth and ended up winning by three."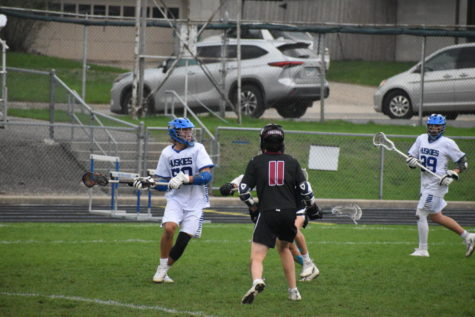 Now, the team is looking to improve their rank in the Big 9. Senior Captain Tate Gfrerer said, "I think we have a strong chance of placing in the top three in the Big 9. We have a talented team this year with lots of great players. I'm excited to see where we place at Big 9." This year, the Huskies team looks a little different. 
With the majority of the varsity team being sophomores, the future looks bright for the Huskies. Senior Captain Korban Stricklin said, "I think our team has some great potential. We have a lot of young skilled guys on our team along with a skilled group of experienced upperclassmen." The Huskies next game is on Wednesday, May 11 at 7:30 p.m. against New Prague at home.