Champions League magic is in full effect
The UEFA Champions League is an annual soccer competition in which the best of the best European teams compete to see who will take the trophy of world's best team. In its history, the tournament has brought legendary moments in soccer history with the most iconic teams and players bringing everything they have in order to take their team to the top, and with the most recent game between Real Madrid and Manchester City ending in a stunning comeback for Real Madrid to make it to the finals, the Champions League continues to prove itself as a magical competition in the sports world.
The tournament consists of a double round robin group stage of 32 teams divided into eight groups of four that determines the qualifiers of the knockout stage by seeing which two teams get the most points after six games. The knockout stage is a double-legged format up until the finals and teams must win on aggregate, or total goal count in order to make it to the next round. If two teams draw on aggregate after 90 minutes of the second leg, they must go into extra time to get a chance at scoring a goal or determine who goes to the next round in a penalty shootout if both teams fail to score within the 120 minutes of play. OHS senior Said Geelle said, "The Champions League is filled with great moments of football and unforgettable nights." From teams like Real Madrid and City, to other legendary clubs like Manchester United, Barcelona and AC Milan, the tournament has seen greatness from all across Europe.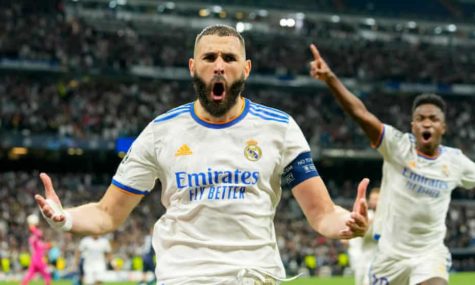 This year's Champions League has been filled with plenty of surprising moments such as the recent exit of Manchester City, a favorite to make the finals. Manchester City, led by famous soccer manager Pep Guardiola, has failed to make it past the semifinals and reach UCL success after failing to keep their 4-3 aggregate lead over Real Madrid, led by Italian manager Carlo Ancelotti. After a long first half, City eventually scored after a fantastic goal from Algerian winger Riyad Mahrez and increased their lead to 5-3 on aggregate in the 73rd minute. While the game looked very dead and hope appeared to be lost for Madrid after conceding a goal at home, Ancelotti's 68th minute substitute Rodrygo found the net twice in the 90th minute with added time to send Madrid into extra time against City who substituted a majority of their best players believing that they could hold onto the 1-0 lead. After five minutes of extra time, French striker Karim Benzema won a penalty and slotted it in, giving Madrid their first lead of the round and after an intense and physical 15 minutes, Madrid beat City 3-1 sending them to the finals. 
Real Madrid are known for their legendary history in the Champions League as they are the team with the most trophy wins in the competition with thirteen titles. OHS junior soccer player Rolando Maya said, "No matter the situation, Real Madrid are inevitable. It's in their DNA and this is their competition." They will face English side Liverpool led by German Manager Jurgen Klopp in a finals rematch after Liverpool lost to Madrid in 2018. The finals match is set to be on Saturday, May 28.