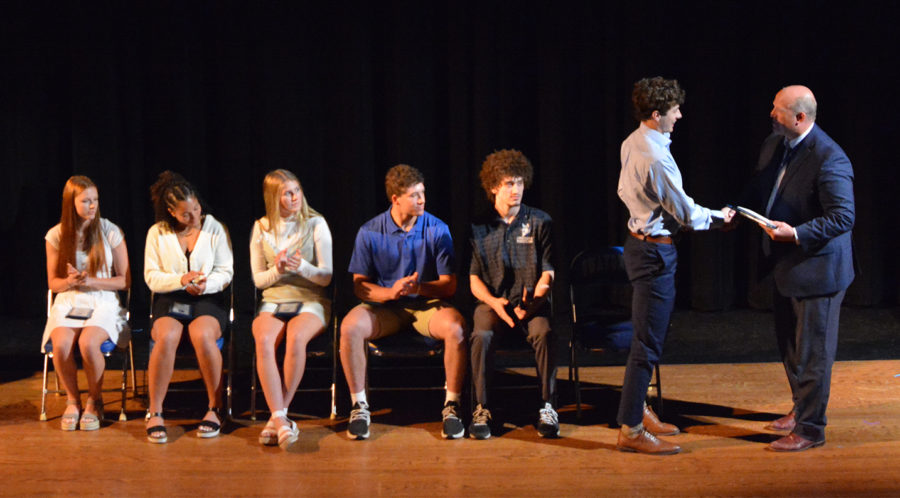 OHS holds ceremony to honor student athletes
May 27, 2022
The accomplishments of male student athletes at OHS
As the school year and sports seasons start to wrap up, there are many awards to be handed out to student athletes at OHS. Some of these awards include Junior Athlete of the Year, Oldenburg Senior, Senior 110%, "O" Club recipient, Excel recipient and Triple "A" award winner. All these awards are very special and it takes a lot of work and commitment to receive them. Activities Director Mr. Marc Achterkirch said, "One of the reasons why it's been around so long is because of the special awards handed out." All of the potential award recipients are nominated by the coaches staff who had determined the top three male athletes in the junior and senior classes. This year's junior finalists are Blake Burmeister, Justin Gleason and Trevor Schirmer, and this year's senior finalists are Preston Meier, Landen Johnson and Grant Achterkirch.
Senior Finalists
Grant Achterkirch is also a three sport athlete at OHS, and he is involved in football, hockey and baseball. Achterkirch has been passionate about football from a young age as he committed to play at University of St.Thomas as an inside linebacker. He has been honored to have been a captain for all three of his sports. Achterkirch has consistently been a good example on and off the rink and field. Achteritch is involved in two physical sports, football and hockey, so it can be difficult to stay healthy. Achterirch said, "I faced some adversity throughout my year, and it took hard work, so to be able to be in the position I am now is a very big honor."
Landen Johnson is a one sport athlete at OHS and is involved in wrestling. He has broken the school record for pins and is second for career wins. His record this year was 43-3. Johnson went to state and became a two-time state champ in class AAA at 160 pounds. He has had a major impact on the team and was one of the team captains. He has set high standards for himself as well as for the team because the team wanted to make it to the state wrestling tournament. As Johnson is only a one sport athlete, it is harder to gain recognition. Senior Landen Johnson said, "It makes it harder being a one sport athlete because I am only able to show my ability in the winter and not year round like multi sport athletes."
Preston Meier is a three sport athlete at OHS, involved in cross country, hockey and lacrosse. Preston was the number one runner on the cross country team as his best 5K was a 16:15.11. He has competed at the state meet three times in row including his sophomore, junior and senior years. Meier's passion and determination for athletics is evident as he committed to play lacrosse at University of Concordia Wisconsin as he will be playing his main position in high school which is midfielder. Being a captain for all their sports including hockey has been a big honor to Meier. With high responsibilities for both academics and athletics, it's difficult to balance everything as a three sport athlete. Meier said, "It takes a lot of balance trying to develop the skills to be good in every sport."
Junior Finalists
Blake Burmeister is a three sport athlete at OHS, and he is involved in soccer, basketball and golf. Burmeister was also part of the basketball team this year, and was an asset as a starting guard. His speed on the court has transferred onto the soccer field where he plays defense. His talent has continued into the golfing season. Burmeister competes on the varsity level for all three of his sports. As the award ceremony gets closer, Blake Burmesister said, "I would be honored to receive Junior Athlete of the Year for all of my hard work."
Justin Gleason is a two sport athlete at OHS, competing in track and field and football. Gleason's determination and growth has been one-of-a-kind to watch this year. He has broken the triple jump school record with a jump of 44 feet and 10 inches at the Mayo Invitational meet this month. His strength and speed come off the track and into the football field as he is able to step into the roles of wide receiver and defensive back. Being a two sport athlete certainly requires hard work. Gleason said,"I have to have a great football season next year and continue to improve in track and field."
Trevor Schirmer is a three sport athlete at OHS and is involved in football, basketball and track and field. Schirmer will be a captain next year in all three of his sports. Schirmer was part of the state-competing basketball team this year and kept the bench hot. He plans on making it to the track and field state meet in the upcoming year for shot put and discus. With the characteristics he has, Schirmer is able to positively impact his teams as a leader. He said, "My leadership will help me lead by boosting my confidence in my ability to compete at the varsity level."
The finalists waited patiently to find out who will receive these prestigious awards for their hard work and dedication as student athletes. The award ceremony was held at Owatonna High School in the auditorium on Wednesday, May 25 at 5:00 p.m. Preston Meier was named the senior finalist and Trevor Schirmer was named the junior finalist.
Female junior and senior athletic award finalists announced
As the school year and spring sports season start to wrap up, many seniors prepare to say goodbye to their highschool sports career while juniors get ready to go through their seasons one final time next year. Every year, 12 students who show great leadership and dedication are chosen by coaches to be recognized and awarded in front of family and friends. The awards that are presented are: Junior Athlete of the Year, Oldenburg Senior, Senior 110%, "O" Club recipient, Excel Recipient and Triple "A" award winner.
All finalists and recipients are model members and students of the Owatonna High School community. Many of them are involved in year-round sports while being able to keep up with their academics and community service. This year's junior finalists are Annika Moran, Abby Vetsch and Ezra Oien. This year's senior finalists are Janessa Moore, Hillary Haarstad and Ava Wolfe.
Senior Finalists
Janessa Moore is a three sport athlete who has dedicated her time and effort into gymnastics, track and soccer. Not only is Moore a year round varsity athlete, but she is also involved in a multitude of clubs, including Alliance for Greater Equity, DIG and DECA. Sports has played a massive role in Moore's life, and having played for 15 years now she has made some amazing accomplishments and memories. Being a finalist for the ceremony has made Moore feel like her hard work has been recognized. Moore said, "It feels nice. It feels like all my hard work and effort that I put in has finally paid off and you know, recognition feels nice."
Hillary Haarstad has been an all-year sports player her entire highschool career, playing varsity basketball, track and soccer. Outside of sports, Haarstad is involved in many clubs such as NHS, DECA and Big Brothers Big Sisters. Haarstad does not plan on competing in her sport in college but is planning on majoring in marketing at the University of Wisconsin La-Crosse. Sports have always played a big part in Haarstad's life, so being nominated for these awards has been a major way of displaying her hard work for all to see. Haarstad said, "It feels really cool because as an athlete you work really hard throughout the year and there's so many talented people in the school so it's an honor to be thought of as one of those top athletes."
Ava Wolfe is a two sport athlete who has been working hard at hockey and track, starting her career in varsity sports in seventh grade. Next year Wolfe plans on running D-1 track at St. Thomas University. Wolfe also manages to dedicate her time to clubs she is passionate about, such as 4H, NHS and YSL. This is the second year Wolfe has been nominated for the award. She said, "I was a finalist last year. I'm just really proud of myself. I've been pushing myself to be the best I can be and I've really worked really hard to be the best that I can be in sports."
Junior Finalists
Annika Moran has been an avid member of the OHS community by being a part of cross country, basketball and lacrosse. Not only does Moran dedicate her time to sports, she is also a member of NHS and the OHS band. Sports have been a huge part of Moran's life having played them since she was a child to now being in three sports every year. As a junior, Moran has started thinking about how sports may be involved in her future as a college athlete. Moran said, "I want to continue playing sports, even when I get older and I want to play lacrosse in college."
Abby Vetsch has been a varsity player for OHS athletics for almost her whole high school career, and currently she plays hockey and soccer. Outside of sports, Vetsch dedicates her time to NHS, Big Brothers Big Sisters and hanging out with friends. For as long as Vetsch could remember, she had been playing sports year-round. Although she has yet to decide on what sport she wants to pursue after high school, Vetsch is planning on pursuing a career in the medical field. She feels very honored to have been nominated. She said, "It feels good that I've been fortunate enough to get this opportunity."
Ezra Oien plays varsity hockey and soccer while still being able to maintain all of the clubs she is involved in. Oien is currently involved in DECA , Big Brothers Big Sisters, NHS and choir. Sports have played a major role in shaping Oien into the person she is today, Oien said, "I would say sports are definitely part of me aside from school. It's something I motivate myself to do. I think I've gotten a lot out of it, whether it's life lessons, or dealing with adversity. Just competition persevering through different things. It's definitely something that has shaped me as a person and who I am today and I would never take that back."
All these girls have worked incredibly hard to balance their dedication to sports and school. A major congratulations is in place for Ezra Oien and Ava Wolfe who won their respective awards last night. Good job to all who were nominated for putting in their outstanding efforts to be exemplary members of their teams and the OHS community.