Mr. Soccer finalist Benny Bangs finishes high school career with All-State honors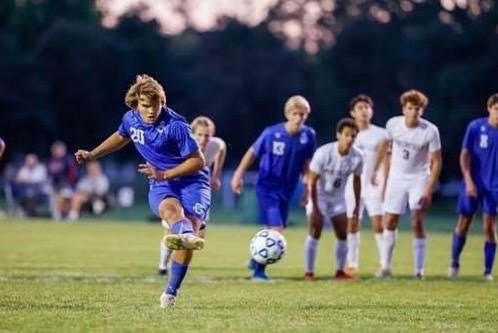 After his junior soccer season, Benny Bangs made a name for himself after earning All-State Second Team honors. Bangs became the second junior in the history of Owatonna Soccer to earn All-State honors. Bangs had high expectations going into his senior year and he did not disappoint. Bangs went on to have an even better senior season where he earned 2022 First Team All-State honors.
Benny Bangs had a dominant senior season. He was named one of the captains of the team and helped his team go all the way to the section finals. While the team fell short of the section championship in an overtime loss to Rochester Mayo, Bangs had a very big role on the soccer team. Varsity soccer head coach Bob Waypa said, "Benny was a true leader on and off the field, he led by example in the weight room, at practice, in games and on the bench, you could see the passion and love he had for soccer and his team." Bangs led the team with 17 goals in the 2022 season alone.
Bangs' legacy will also be left in Owatonna Soccer history. He earned himself some other awards throughout his career. Bangs set an all-time Owatonna record for goals with his 40 career goals passing Nate Smith. He has two records right now. Benny has a record for all-time goal leader and all-time point leader.
Bangs also earned other awards throughout his career. He was named a finalist in the Mr. Soccer Minnesota award which consists only of the best of the best in the sport. Bangs was also a great teammate and friend to have out there on the field with you, Coach Waypa said, "He left everything on the field everyday and everyone could see that it had an impact on the younger kids on the team."
Bangs made many memories while out on the field. He said, "My favorite memory is when my teammate Blake scored on our goalie against Century". Bangs also gave his teammates and coaches many memories as well. Bangs coach throughout his childhood, Ryley Glynn said, "My favorite memory of Benny was his first high school soccer game when he scored with two minutes left to win the game."
Bangs is a two sport athlete, playing soccer and hockey. He is still unsure if he will play soccer at the next level. Bangs said, "I don't know yet that's something I'm gonna have to think about for a couple of months." Bangs had a historical career in Owatonna breaking All-Time scoring records, being awarded First Team All-State in his senior year and Second Team All-State his junior year. Bangs was an outstanding teammate and player throughout his soccer career and will be remembered for the hard work and determination he put forward everyday.