Olivia McDermott serves her way through the season
Olivia McDermott is a senior at OHS. McDermott competes as the top singles player for Owatonna Girls Tennis. She helped lead the girls team to a 6-5 record in the Big Nine Conference and 7-9 overall.
The team was able to pull off a lot of successful wins despite their young age. Girls tennis head coach Curt Matejcek said, "The team competed hard all season long and played with a lot of heart and integrity." McDermott was voted one of captains before the season started and played a crucial role for the team throughout the season.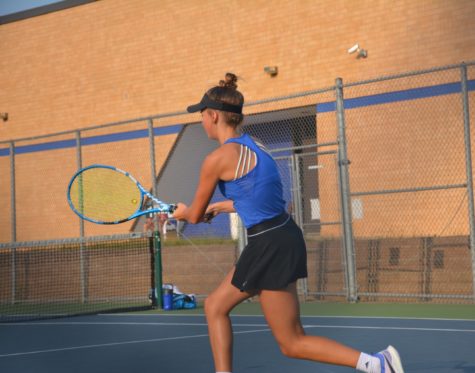 McDermott has been involved in tennis since freshman year. McDermott said, "The season went really good. I had a winning record and I was able to notice improvements during the season. It was nice seeing all my hard work pay off." As a team, they accomplished a winning record in the Big Nine. McDermott says she is going to miss playing with her teammates, the bus rides to matches, team dinners with the girls and spending weekends playing in tournaments.
McDermott believes that tennis taught her life skills that she will use for the rest of her life. As the season has come to an end, McDermott can take away that working at your goal will always pay off and to always be a role model to the people looking up to her. Tennis will also be a big part of why she will continue to work hard at what she wants to achieve. After high school, McDermott plans to attend a four year university to major in either nursing or elementary education.