Rebounding into a new season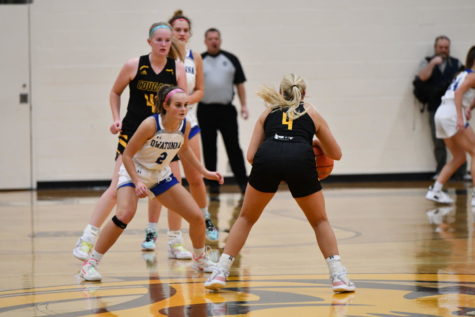 With a 1-5 start to the season, the Owatonna Girls Basketball team hopes to bounce back. The team hopes to rebuild this season, but also has a lot of young and talented potential.
The team does not have the experience most teams do, but they do have a lot of potential ahead of them. Head Coach Ms. Lindsey Hugstad-Vaa said, "We're young and we're athletic, we just need to put it together and have some time to play together." The team graduated 10 seniors last year, so they have a completely new look and team to work with. , they hope to keep gaining the experience needed for the players to feel more comfortable in game situations throughout the season.
One of the few players on the team with some experience from last year is captain Kiara Gentz. Gentz is a senior this year at Owatonna High School and hopes to lead the team to a successful season. She said, "We hope to finish the season at the top of the conference and try to progress through the section tournament. Overall, our priority is to work together and continue to make progress to become the best team we can be." Gentz hopes to continue to help the team learn and grow and hopefully give them a run in the playoffs.
The girls next game is at home on Tuesday, Dec. 20, at 7:30 p.m. vs. the Northfield Raiders at Owatonna High School.