Scary injury brings NFL community together
On Jan.2, the sports world was put into shock like never before. During the first quarter of a highly contested conference matchup between the Buffalo Bills and the Cincinnati Bengals, the game was abruptly put to halt after Bills safety Damar Hamlin collapsed on the field after making a tackle.
Hamlin suffered cardiac arrest on the field where his heart stopped pumping blood to his brain and other vital organs. A cardiac arrest can be fatal, unless fast and appropriate medical care is provided. Medical staff during the game rushed out on the field and administered CPR to Hamlin and were able to restore his heartbeat. Players from both teams gathered around with tears on their faces praying that Hamlin would be okay. Hamlin was brought to UC Medical Center where Hamlin was listed in critical condition. 
Many people around the world were scared while watching the game.
 "It was a very scary moment in football and I've never seen anything like it before," Senior Owen Korbel said,"It's scary to know that in football, this injury could happen from a normal hit just like it did to Damar." 
It is important to be prepared for injuries like these just like the medical staff were at the game because it can help save lives.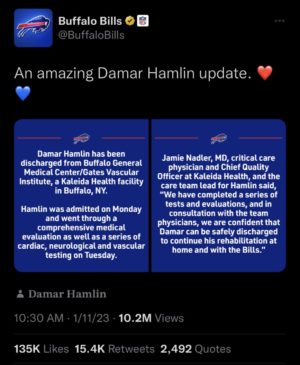 OHS has never had an athletic injury similar to Hamlin's. 
"We haven't had an injury like Damar's here but I have administered CPR before but not to an athlete". Owatonna's Athletic Trainer Terry "TC" Carlye said. "We have an emergency action plan so all coaches know what to do in an emergency, where to locate AEDs, and the sequence of doing CPR." Coaches for all sports are taught these things in order to keep athletes safe. On Jan. 16, District Physical Education and Health teachers certified in CPR training. 
Hamlin began to recover slowly in the hospital over the next few days. NFL supporters around the world came together and raised over $8 million for Hamlin's charity to give back to children in his home community. NFL teams supported Hamlin during week 18 by wearing warm up shirts with "Love for Demar 3" on it. The Bills played the New England Patriots and on the opening kickoff, Nyheim Himes took it back all the way for a 96 yard touchdown. 
Hamlin was discharged from the hospital on Jan. 11 and will continue his rehabilitation at home and with the Bills.