Puss in Boots discovers the meaning of life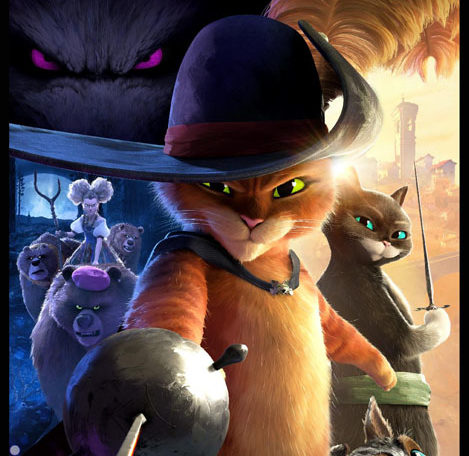 After ten years, Puss in Boots finally returns to movie screens in his new movie: "Puss in Boots: The Last Wish". After discovering that he has used eight of his nine lives, Puss loses his sense of adventure and confidence. The one hour and 40 minute long movie tells the story of Puss's journey to find the Mythical Last Wish and grant himself the replenishment of his nine lives. 
Although Puss in Boots is an animated movie, people of all ages have found satisfaction in watching the new movie. 
Senior Peter Swehla said, "I got roped into going and watching it with my parents, however, I actually ended up really enjoying the movie."
Most people would look at animated movies such as "Puss in Boots: The Last Wish" and assume it is a children's movie. However, there are a lot of aspects to the movie for everyone to enjoy. From the cute characters, to the witty humor, Puss in Boots: The Last Wish is a fun watch for people of all ages. 
Portrayed by a wolf, the villain of the movie is seen as death sneaking up on Puss and his last remaining life. Bearing bright red eyes and wearing a long black cloak, death introduced a dark and cynical side to the movie. 
Senior Eli Pressel said, "My favorite part was easily the Wolf. He was super intimidating and brought out the fear in Puss." 
Whether someone is a child, high school student, or adult, everyone can appreciate the movie for the meaningful message it portrays. Once Puss reached his last life, he began to live in fear and stopped doing what he loved. Throughout his journey, Puss realized that he has to make the most of his last life and do what makes him happy. Instead of isolating himself and hiding from danger, he began to embrace the world around him and appreciate the friends he had. 
This touching story stood out to viewers in a variety of ways.
 Pressel said, "Only having one life is what makes it special. You need to take advantage of every minute you get, because you only get one life."
 Pressel values living his life to the fullest and making every second count. Swehla said, "The movie showed me the value of good friendships. Sometimes when going through hard times, you just want to shut everyone out; however, your friends give you the strength to keep going." Swehla appreciates his friends and all they have done to support him. 
Puss in Boots: The Last Wish can both teach an important lesson to younger generations and serve as a friendly reminder to the older generations. Life is precious and it should be celebrated with family, friends and loved ones. To anyone who is in need of a good laugh, a nostalgic throwback or learning a good lesson, this movie is a must watch. It will be released on DVD on Feb. 28.