Mr. Fish retires after 32 years of teaching
After 32 years of teaching, English teacher Mr. Will Fish is officially retiring. He started his career as a Mayo High School teacher for 10 years, mainly teaching humanity classes and some web based classes. Then he came to Owatonna High School for the last 23 years of his career. Mr. Fish earned his undergraduate degree in English from St.Olaf, then gained his Master's degree  in teaching from St.Thomas. 
Mr. Fish has taught numerous English classes at OHS including: AP Lit., AP Lang, Utopian Lit., English 10, pre AP 10 English, 11 English, and Creative Writing. Throughout these classes he has continued to make everyday a new experience. 
Senior Dawson Risser said, "He teaches in a way that makes you think, although many of his questions are pretty simple, he adds a depth to the way he speaks and brings about an enthusiasm that keeps you engaged in class." 
Mr. Fish tries to keep students involved as he teaches, by helping them think and find their own thoughts. 
English Colleague Mr. Wood said, "He doesn't attempt to make his voice louder than the group. He wants to add to the collective and help people come to collective solutions and agreements on things."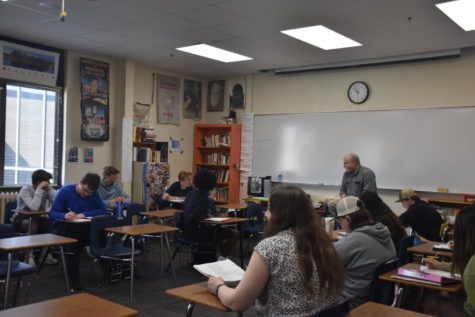 He is not only a teacher, he is also a hockey coach. Mr. Fish said, "I came to teaching through the skill acquisition aspects of coaching, and I find life more interesting when lightbulbs are going on. In some ways, writing and hockey are similar- I'm helping people develop skills to make sense of situations and get on the same page with other minds." 
Mr. Fish was the Owatonna Varsity Hockey Coach for 11 years. Now he coaches hockey in Northfield. He helps with hockey throughout the year, but during the season he works with the Bantam A team and the Mite program.
Mr. Fish said, "The main reason I'm still doing it is because the game is unscripted, so players have to figure out how to work together. In a society where people growing up tend to be micromanaged, hockey is a place where they can woodshed skills, learn how to deal productively with failure, act decisively, work together, and be a part of something larger than themselves."
 He was also one of the funding advisors for the Owatonna Diversity and Inclusion Group. 
During the next few years after his retirement, Mr. Fish hopes to continue to develop his health. He will continue to work on literature and a screenplay he has been working on. He will also continue to pursue his passion and coach hockey in Northfield.
 As Mr. Fish leaves OHS, he will still continue to give back to the communities. Mr. Fish said, "I'd say as a general rule of thumb, in the first 30 of your life, learn as much as you can in the middle third your life produce as much as he can and in the last 30 year life, give back as much as you can do the right things right rather than doing fast." 
Editorial Note: This article was published in the Graduation Print Edition