The end of an era
When a season ends the lights are turned off at the field, in the gym, at the courts or track. They stay dark without competition until the next season begins with hope and excitement. They are the one constant in every Owatonna High School program that will always be back the next season. Countless memories, practices and games have all happened at these places since OHS opened in 1921. Next year, that one constant will change. With OHS set to open at a new site in the fall of 2023, the current field, gym, courts and track will have seen their last competitions. For these programs this will be the first time in 101 years, or the first time ever they are not playing home games at this campus. Many teams wanted to close it out right, and the old OHS campus has shown that it has a little magic left in it. 
The beginning of the last games started in the fall with football, volleyball and girls tennis.The last high school football game played on the OHS field was a battle. The Huskies came back from down 14-0 early and won 17-14 with a late touchdown. Head Football coach Jeff Williams said, "Our last game did not feel that different for me. Maybe that was because we were in a dogfight of a playoff game and that consumed all of our focus. It really wasn't until after the game was over that it really hit me that, 'this is it!', and thankfully we won!"
The volleyball team will be moving to the new state of the art OHS gymnasium. Senior captain Ava Eithreim said, "Something that was very unique to our own gym in the whole Big 9 was the incredibly low ceilings. We had many issues with the ball being affected by the ceiling but we learned to use it to our advantage and watched the other team struggle with it." The girls used this home court advantage at their last game on Oct. 18 when they won 3-1 over Red Wing. The Owatonna girls tennis team continued this trend of winning as on Sept. 22 they defeated Rochester J.M 4-3 to win their last home meet.
Senior captain Olivia McDermontt said, "It was bittersweet knowing it was the last match we would play there but exciting for future generations knowing they will make new history at the new OHS courts." 
In the winter both girls and boys basketball teams were able to capture close wins in their last home games to close out the gym right. The girls team won in nail biting fashion beating Mankato west 42-39. Senior captain Kiara Gentz said, "We had a lot of energy that night and wanted to come away with a win and end on a high note." The boys were able to capture a double overtime win to close out the gym against Rochester Century with a final score of 80-72. Senior Nils Gantert said, "It was a very unique and cool feeling knowing that we were playing in the last game and closing out that gym with a win." Both the girls and boys will look to carry their hot finish at home into the new state of the art gymnasium. Wrestling will also be moving into the new gymnasium at OHS. Sophomore wrestler Blake Fitcher said, "It gets really loud in there especially if it's a close match and you can hear everyone through your head gear." This environment is something that the wrestling program will look to continue at the new OHS gymnasium. 
This spring the girls and boys track team competed in their last home meet on Thursday, May 12. Both teams ran away with a win, closing out the track in the right way. Boys head coach Kevin Stelter said, "I just took a moment to recall all the fond memories and athletes I have coached at this facility." This track has been home to many great people and athletes over the years with multiple individuals and team state champions calling this track home. Senior captain Kaitlyn Wasieleski said, "Being part of the last track meet at the OHS Track was kind of saddening, but it was also an honor to be part of the ending of a chapter in the history of our town." Both the girls and boys track team will look to carry their success from this track and field onto the new OHS track and field in 2024.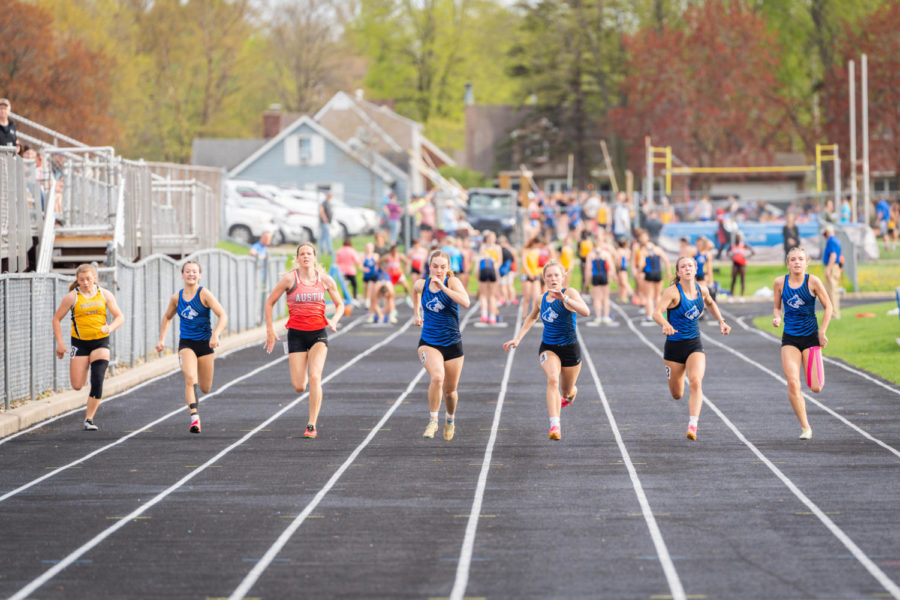 With the spring season still finishing up, boys and girls lacrosse are still playing on OHS field and the boys tennis team is still looking to close out the tennis courts right. Hockey, soccer, swimming, golf, baseball and softball will all either be staying at their off campus location or moving from off campus now to the new campus in 2023. The gymnastics team will permanently relocate from their off campus gym to the old OHS gym where basketball and volleyball called home for many years. The gymnastics team looks to build on their section championship win that they took home in that gym last winter. The Old OHS was home to thousands of athletes and the memories for these athletes will not soon be forgotten. 
Editorial Note: This story was originally written and published in the Graduation Print Edition.