Putting past their competition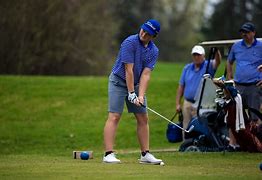 The Owatonna Boys Golf team has been improving throughout the past few years. They usually have a good number of underclassmen stepping up to the table. The Huskies finished eighth in the Big 9 Tournament on May 22 and are looking forward to the Section tournament. 
Breakout star on the team is Junior Captain Quinn Thompson. Thompson is locked in for  Sections and has high hopes. 
Thompson said, "Individually I have averaged 79 this season with a few rough rounds  and a few good ones. I'm hoping to turn it around in sections." 
Thompson hopes to be All-Conference and have a chance to make it to state. 
Sophomore Jack Langlois is looking to bounce back after a tough start. Langlois has been on varsity for quite some time now and holds himself to high expectations. 
Langlois said, "Me personally I have really been underperforming, I haven't been able to put together all phases of the game." 
One of those high goals Langlois has is a team goal, he hopes the team will play on the second day of sections for the first time in a long time. 
Golf is one of the most technical sports and takes a lot of practice. It's a sport that you can play for a long time after your high school career. The game is a very mental game. 
Coach Mark Langlois said, "There are many mental pieces that are part of the game that I think people don't really realize how mentally strong you have to be to be a very good golfer." 
The Huskies are looking to bounce back at their next meet. Their next meet is at 10:00 a.m. on Tuesday, June 6 at The Jewel in Lake City for the Section Championship.