"You Say Goodbye – I Say Hello"
The current Owatonna High School has served the Owatonna community well for over a century, but OHS students and staff are excited to say goodbye to the current building and hello to the new one. The new Owatonna High School building began construction in 2021 after its bond passed in November 2019. The new building was approved on the heels of a rearranging of the elementary schools and updating of the middle school in Owatonna. The OHS Class of 2023 has just missed out on a couple of these updates. They were the last class to graduate from Willow Creek and they will be the last class to graduate from the current high school building. With that being said, the Classes of 2024 and beyond have a lot to look forward to in the new building. The updates detailed below will allow students to excel in arts, academics and athletics.
Central commons
Lunch is often the favorite part of students' days and the cafeteria at the new high school will only make it better. The current lunch offerings will carry over to the new high school. The biggest difference in lunch time experience will be in the seating. Director of Nutrition Services Ms. Sarah Brooks said, "There's different types of seating where we have some lunch tables, some high tops and booths. There are different eating spaces, not just the typical lunch table." Students are looking forward to the new lunch space.
Tech Ed. classrooms meet industry
The landscape of agriculture and industrial tech jobs is ever changing and the new spaces for these classes will help students be equipped with the skills they need to enter the real world. OHS currently has a wood shop, metals shop, ag building and green house. At the new school students will have access to those same spaces but with upgraded equipment. Tech Ed. teacher Mr. Mitch Dinse said, "The metal shop is completely getting a full facelift. We are more like industry that's here in town [and] able to relate technology better to what's being used across the industry." The woods and metals classroom, as well as the ag lab will be more centrally located at the new high school allowing more students to peek in and see what it is like in those classes.
Performing arts space
Music is a major part of the Owatonna community. The new high school will include rooms for band, choir and orchestra, as well as a number of ensemble and a space dedicated to music lockers. Additionally, the new auditorium will hold 748 people and feature an orchestra pit. Orchestra director Ms. Sandra Justice said, "There's not a bad seat in the house. So like in the current high school, you have columns that block vision, so if you're the lucky duck that got sat behind the column, you have an obstructed view. Not one seat will have an obstructed view [at the new school]." The auditorium's stage will be acoustically treated by Wenger which will add to the state of the art facilities.
Sports complex
Currently, OHS activities have some space on the high school grounds, but some teams have to leave for practice and games. That will change at the new high school. Other than hockey and swimming, every team will have a practice facility on campus. The new high school will also feature a state of the art weight room, a walking track and a 1,600 seat gymnasium. The stadium at the new high school can be home to football, soccer and lacrosse games in front of 3,500 fans. The use of synthetic turf on some of the new fields will help OHS teams in late fall and early spring. Owatonna Activities Director Marc Achterkirch said, "We have the two practice fields side by side that are all artificial. They're lined for soccer, football, boys, lacrosse, girls lacrosse. The one corner has softball… and then the other corner we have home, first, second, third portable pitching mound for baseball. So I mean, those two practice fields that you see out there are all set for basically everything."
Athletes are also excited about some of the features of the new weight room. Junior Mitch Seykora said, "[I'm excited for] the new technology and all of the new customization of weights. Plus, it's way bigger."
Parking and security
The current OHS campus works fine, but it is not without flaws. Two of the biggest issues at the current school are security and parking. Both of these will be addressed at the new school. The new school will have one secure, supervised entrance during the school day, as well as an activities entrance that can be accessed when necessary. The new high school is also much more open which will lead to more supervision and in turn a safer learning environment. Students and staff will also be more comfortable arriving to a parking lot that meets the needs of the OHS community. OHS Principal Kory Kath said, "Right now we have around 350 parking spots. In the new high school, that over doubles, we have 720 [spots]." The bus loop can also convert to 150 more spots when necessary for evening events. Some OHS students are not as excited about the parking situation next year. Junior Rielly Kleeberger said "I'd prefer to pay for parking where you can pay for a spot because I think that'd be more convenient for certain people that need to be at the school a lot."
Husky Hut
Owatonna's school store, the Husky Hut, has been open sporadically at best over the past few years. That will be changing at the new OHS as the Husky Hut will be getting a permanent location. The store will be run by a new class that will focus on retail operations including advertising, marketing, and inventory. A number of different items will be available at the store while it is open during lunch. Business teacher Mr. Brad Scharber said, "[We will sell] merchandise, maybe like pens, pencils, things that students might need. We'll be able to sell some beverages and then hoping to maybe be able to do like DECA cookies twice a week…but it'll be more towards the retail side than food." Junior Laken Meier is planning to take the school store class next year. Meier said, "I'm excited to learn more about business and I took [the class] because I believe it will help me grow in my DECA skills."
About the Contributor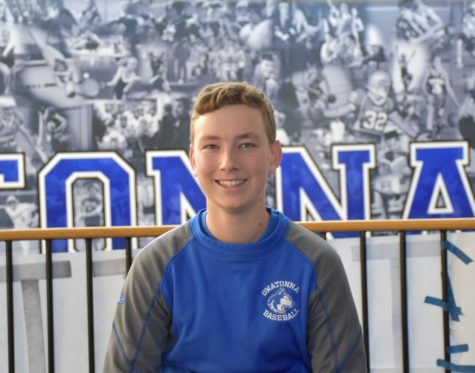 Jonny Clubb, Editor
Jonny Clubb is a senior at OHS this year. This is his third year in Magnet. He joined because he enjoyed journalism freshman year and thought Magnet would...