Spreading joy for all to hear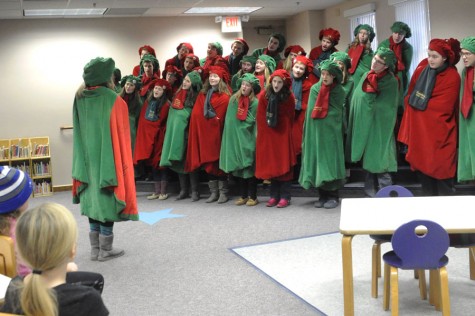 The Owatonna High School Carolers started spreading their joy in 1939. This year marks their 76th anniversary. Before 1939, the Carolers did not have the long robes they have today. They wore their own long coats and scarves to keep warm during their performances; the guys would wear long dyed underwear to resemble tights. Mary Zolnowsky, a former member of the Carolers in 1939, said they "would dye the guys' underwear green and red to be more festive, but some of the dyes did not go so well. The red was terrible causing the tights to turn out dark green". After 1947, both girls and boys wear long red and green corduroy capes and tams. For the first few weeks of 1988, bus transportation was not available. Instead, the carolers would have to walk to their destination they performed at. They walked to schools, central park, the hospital and anywhere else they needed to go. Once they were done singing at their venues for the day, they would walk back to the school and some would even have to walk back home. It remained like this until the 1950's, when Ralph Pavek, who worked for the Owatonna Bus Service, took time off of his own Sunday schedule to drive the carolers to their scheduled visits, resulting in bus service for the carolers.
Things run more smoothly for the Carolers today, things are figured out and ready to go. The OHS Carolers started their ventures around Owatonna on Tuesday, Dec. 2 singing in multiple locations. The Carolers performed at the Owatonna hospital, Owatonna public library, Wells Fargo bank, Mayo clinic health system, various grocery stores and several Owatonna public schools.
Being the 76th year for the Carolers, the transition is ingrained in Owatonna. "It is awesome. I mean to say that you had a group like this for that long, that continues to be relevant, continues to be high quality, and that continues to be appreciated by the community like it is. That to me is a tradition worth keeping," said Chris Harris the Caroler and choir director at OHS. Even caroler Luke Holzerland expressed his feeling on how the atmosphere is within the carolers. "It is super fun. They make you enjoy Christmas a lot, it is just a lot of fun." It is frowned upon celebrating Christmas or any holiday in general, but it is mostly towards schools. Which is more aimed towards the carolers and their purpose. "This is the 76th year that the Carolers have been going on. So, I think the fact that, that group has been in existence for that long and has carried on that tradition, sort of transcends the religious part of it or the "Christmassy" part of it. It is almost now just as much about bringing holiday cheer to the community and sort of being an icon of days gone by where people actually went out into the community and Caroled. To me it is beyond that, it is not about religious things, it is more about the celebration of the tradition," said Mr. Harris. Once a year in December, the Carolers go around town and spread their holiday cheer to our community. The strong tradition of the carolers is continuing its trend throughout Owatonna and is a tradition Owatonna is proud of.
About the Contributor
Lupe Gutierrez, Writer
I am a senior and a writer for Magnet. I laugh at anything most of the time, hence my love for comedy, but sadly I'm not funny at all. So, If you need...