Ho-ho-ho!
With the holiday season approaching, the beloved winter break also comes fast. Before students leave for the holidays, the long-standing tradition of Ho-Ho Bingo is upheld. Students look forward to this broadcasted bingo game all year. Complete with a Santa Claus, the winners of the game can run down to the IMC for a prize while shouting "Ho ho ho" in their best Santa fashion. Prizes this year include Cosmic Brownies, macaroni and cheese, pop and candy canes. Ho-Ho Bingo is a great start kickoff to the Christmas season.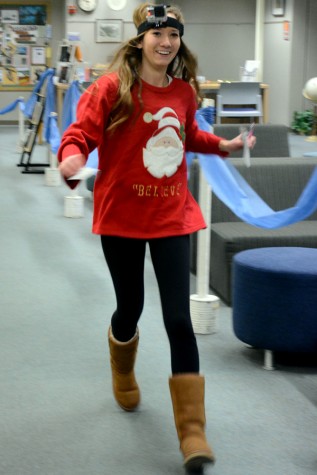 Senior Qahir Lakha was passed down the white beard this year from former Owatonna High School student Josh Dub. "I'm feeling very merry. The lack of a beard has caused an issue," said Lakha about being a recipient to the legacy. With wardrobe malfunctions such as lost beards and shoes falling off, nothing can dampen the spirit of Christmas and Ho-Ho Bingo. While Lahka prepares, Santa's elves get ready. These elves were seniors Abby Bendorf and Kendra Cummins. "We're really excited to spread the holiday cheer for all to hear," said Cummins.
OHS teacher Ms. Julie Haugen, advisor of the Student Council, runs the tradition. "I think it's so much fun and it puts everyone in the holiday season," said Haugen. The Ho-Ho Bingo tradition was started in 2005 by former OHS teacher Mr. Kory Kath and has become a school tradition. "I really enjoy the idea of winning and running down to get a prize," said senior Brianna Kadlec. "I think it's a good way to begin winter break and I'm very excited this year."
The Magnet asked some of the winners how they felt about winning:
Junior Karissa Hilstad was the first winner. She won a Toy Story PEZ Dispenser. "I'm pretty happy about it," she said. "It's my first time ever winning Ho-Ho Bingo as a junior."
Junior Kaitlyn Skalicky won some sour gummy worms. "This is my life. I'm so happy I won," she said.
Senior Jesse Starks won a Kermit the Frog PEZ dispenser. "I've waited my whole life for this. It's a great experience. I can't contain my emotions right now," Starks said.
Another senior, Cole Butler, goes home today with a Dr. Pepper. "It was a good effort all around, and I'm just glad we [I] pulled out the win in the end," he said with a cheerful "Merry Christmas" to leave me.
"
"I feel so fantastic. I just feel so good right now. I feel like I'm on top of the world.""
— Tlotlo Lesetedi
Freshman Christopher Sexter won some double stuffed Oreos today. He was feeling pretty great.
Junior Laura Bloomenrader won a Cosmic Brownie today. "I'm so happy! I sprinted up here because I was so happy," she said.
Senior Kyle Lewis won today, "a nice, low calorie, thirst quenching, grape flavored Gatorade." He said, "I feel great!"
Senior Tlotlo Lesetedi won some "pretty amazing fruit snacks packed with vitamin C". He said, "I feel so fantastic. I just feel so good right now. I feel like I'm on top of the world."
Freshman Sydney Behne won three double stuffed Oreos. "It's all right, I guess. It's a rush and I feel marvelous," she said.
Another freshman, Sheldon Jensen, won some barbecue chips. "I feel wonderful. I feel like it was such an accomplishment. It took a lot of hard work."
Overall, the atmosphere at the Ho-Ho Bingo headquarters was happy, excited, and filled with holiday cheer. This is one holiday that will stay in the hearts of the OHS students for the rest of the year and the New Year too. Happy Holidays, OHS!
About the Contributor
Katherine Speiker, Writer
Katherine Speiker is a senior at Owatonna High School. She loves to keep busy and make life interesting by being involved in several school activities...