To the White House she goes
Ms. McKay honored as semi- finalist for counselor of the year.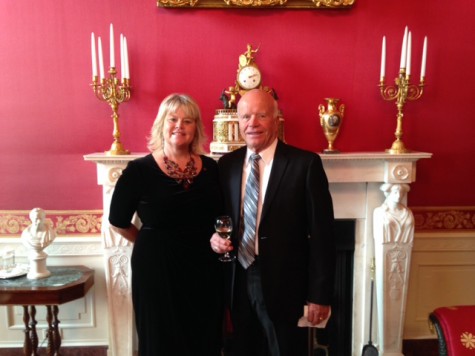 On the frontlines at any school, a staff of diligent and passionate beings dedicate their lives to one cause. Students. A broad brush to stroke, but educators and school staff alike have no other motive, no other purpose at work, other than educating and helping students. They do this not for money or glory, merely the genuine satisfaction in making a difference in countless lives.
"This is a job where you get to see that you can make a difference, you don't often hear it," said counselor Margo McKay.
This does not stop recognition, nor should it. Mrs. McKay placed as a semi-finalist for the National Counselor of the Year Award. The lone counselor from Minnesota traveled to Washington D.C. for the first ever celebration at the White House. Bringing along her father, a veteran and retired school counselor, for the event of a lifetime, they spent a few days exploring the nation's capital before the actual events.
On Thursday, Jan. 29, all of the finalists met with their members of congress. They had a briefing on college and career-readiness; certain panelists and the Counselor of the Year Cory Notestine, from Colorado, spoke on how they have implemented these into their schools. The excitement continued the next day. "Friday was really, quite possibly the best day of my life," said Mrs. McKay.
Starting with a brunch on Friday, Jan 30, the semi- and finalists bonded over a fancy meal. Later that day, First Lady Michelle Obama and actress Connie Britton spoke at the first ever White House ceremony. Honoring all of the counselors, the ones present and subsequently all of the nation's. Ending the day with a black-tie gala at Union Station, Mrs. McKay ended her exciting day at midnight, trying to lock the blurry day away in her memory.
As unique and special the day was, Mrs. McKay laments not having her fellow counselors join her. "Everyone in this department works as hard and does as much, it's too bad they couldn't all come with," said Mrs. McKay. The four school counselors at OHS divide the student body of 1,600 by last name, with Roxi Stewart as their facilitator. A heavy load to bear, but OHS counselors do all they can for their students.
About the Contributor
Kody Stenzel, Writer
I live and breathe The Magnet.

I socialize on the media.

I read books.