Pin to win
OHS sends six Huskies to state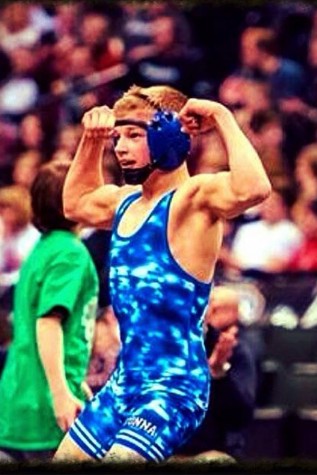 The Huskies wrestling team is sending six wrestlers to state to the Xcel Energy Center for the 2015 state tournament. Going into the sections tournament unranked, senior Justin Tacheny came out with the championship for his ticket to state. Tacheny said, "I wrestled well. The competition in my bracket wasn't too tough. There weren't any superstars. I don't think anyone really expected me to go to state at the beginning of the year, but towards the end, I think people could see me making a run at sections." Along with Tacheny, sophomore Brandon Moen and sophomore Tanner Cole also took first place in their brackets at sections. Senior Alex Green, freshman Peyton Robb and junior Austin Abbas each took second for their tickets to state.
This will be the last time seniors Green and Tachney represent the Huskies. Green is headed to the University of Minnesota- Duluth, and Tacheny will be attending the University of Minnesota- Twin Cities for college. The Huskies have put in a lot of work this season, and finally their hard work is paying off. Senior Alex Green, "It feels great, feels like it wasn't all wasted." Going into the tournament, Green was ranked ninth in the state at the 135 pound weight class. Moen was ranked fourth at 152 weight class, and Cole was ranked fourth at 126. Robb was ranked first at 106. The individual tournament will be the weekend of February 27 and February 28.
Update: At the State Tournament, freshman Peyton Robb took the State Championship Title at 106 pounds. Sophomore Brandon Moen placed third at 152 pounds, and senior Alex Green placed fourth at 128 pounds. Sophomore Tanner Cole took fifth at 126 pounds. Junior Austin Abbas and senior Justin Tacheny did not place in the tournament.
About the Contributor
Justin Goeman, Writer