That's a wrap: boys basketball
The Owatonna boys basketball team traveled to Lakeville to face the third seeded Lakeville North team, Wednesday in a section matchup. The sixth seeded Huskies fell to Lakeville North 30-57. With the loss to North, the Huskies season ended. The Huskies had an 11-11 in-conference record, placing them eighth out of the twelve teams in the Big Nine conference. They finished the season with a 13-14 overall record. The boys had a great year and progressed greatly over the course of the season. Senior captain Daniel Boubin said "A lot of people stepped up this year".The seniors provided superior play that kept the fans on the edge of their seats, as well as the exceptional play provided by the young talent that contributed greatly throughout the season. "They were a very hard working and passionate group of guys," said head coach Josh Williams.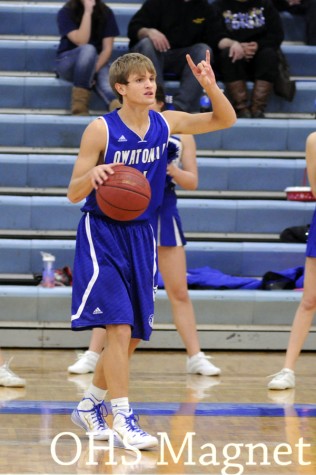 The team will be graduating five seniors:  Boubin, Cole Butler, Layne Frank, Matt Kingland, and Dexter Leer. "I'll miss being around all my teammates. From the freshmen to the seniors on the team, they were a great group of guys and I wouldn't have wanted to play with anyone else" said Boubin.