Shaky table under the House of Cards?
Note: This story contains spoilers from Season 3 of House of Cards.
Season two of House of Cards ended with Garrett Walker's out and Frank Underwood is in as the new President of the United States.  To keep the series fresh, season three brings new antagonists and drama to the small screen. In this thrilling third season, the southern democrat Frank Underwood battles with a republican controlled congress, a hostile Russian president, as well as his own personal relationships. The first episode starts out just hours after President Underwood has been sworn in. Underwood aims to push America Works, the biggest jobs program since Roosevelt's New Deal, through congress. President Underwood hopes that this bill will set the precedent for the rest his term as president.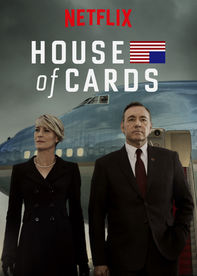 Award-winning star Kevin Spacey leads in this series accompanied by Robin Wright as his wife, Claire Underwood. This duo has shaken up the political system and are out for blood in this season. Doug Stamper, played by Michael Kelly, spends the  better part of the season healing from a vicious attack at the end of the second season. While trying to heal however, the recovering alcoholic relapses and spends the most of the season in a drunken state of depression, all while trying to track down his attacker and get his job back as Chief of Staff for the president.
During the first two seasons, the audience falls in love with the ruthless, take-no-prisoners politician that is Underwood. He continues this trend in the third season, doing anything possible to get what's on his agenda done. Whether it's taking money from emergency aid programs to support his bill or performing covert operations to investigate a Russian controlled crash site, Underwood is devoted to coming out on top. However, this is the first time we see Underwood not in complete control of the situation. Dealing with the UN, Congress and Russia, the president always seems to be on his heels this season.
Unlike other television shows, House of Cards refused to fall to the typical third season curse. It starts strong and ends with one of the biggest cliffhangers in modern television. Every episode is suspenseful and filled with drama which is why this show is perfect for Netflix because it just leaves you wanting to watch one more episode every single time.
"
It starts strong and ends with one of the biggest cliffhangers in modern television"
For many, however, the large amount of plot and character development the third season contained was a large turnoff. Seeing President Underwood  in a desperate state was something not anticipated after the first two seasons. Match that with the sickening development of Claire Underwood's character, and it left the die hard fans wanting more of the Underwood's they have come to know and love in the beginning.
It would take just under 11 and a half hours to watch the third season straight through. It is also rated M for Mature Audiences.  It has a great story line, amazing acting, and tons of character development. For those who have not checked out the series yet and are even slightly interested in politics or love a good drama series, the link to the House of Cards Netflix homepage can be found here.
About the Contributor
Evan Moe, Writer


Evan is a senior and new to Magnet this year. While not writing amazing articles for Magnet, Evan enjoys hiking, camping, fishing, and just being...