Concurrent classes
OHS students are constantly being told to prepare for college, and some have taken the initiative to do just that. Many students are currently enrolled in concurrent classes and post-secondary enrollment options, or PSEO. Both are similar, but are operated quite differently.
Concurrent classes give students an opportunity to earn college and high school credits simultaneously. Most concurrent classes are weighted advance placement, or AP, courses. If a student does well, they can raise their grade point average, commonly known as a GPA. When deciding to take certain classes, students should consider if signing up locks you into the class. For some classes, college credit is optional. There are three colleges that concurrent classes at the OHS are offered through: Minnesota State University, Mankato, Riverland Community College and Southwest Minnesota State University. The basic requirements for concurrent classes state that seniors must be in the top half of their class or have a composite ACT score of 21+ while juniors must be in the top third of their class or have a composite ACT score of 24+. Below is a chart of concurrent classes offered and which college the course is offered through.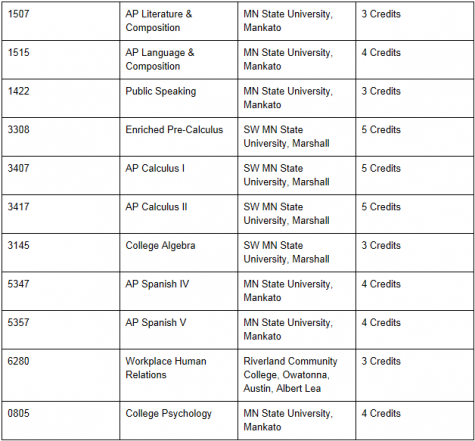 PSEO is unique in that a student takes the college course(s) at an actual campus or online. The students who take the online route have several options. Students can take classes at a participating college campus, at their own high school or even at home. PSEO gives students a real opportunity to experience what college courses feel like. Students who qualify, depending on the college course, their schedule, grades and age, may have a full PSEO schedule. That means they would rarely need to come into the high school because the courses they are taking are fulfilling their graduation requirements. Freshmen are not eligible to participate in PSEO, and according to the OHS Registration Guide, "Tenth grade students who have passed the 8th grade Reading MCA may be eligible to enroll in one CTE (career and technical education) course." Not every student wants or gets a full PSEO schedule. These students then attend two schools- the college and the high school. Most times, these students who have this type of schedule enjoy it. Senior Riley Resler, who has a part-time PSEO schedule, said, "I love having this type of schedule because it gives much more flexibility and has given me the responsibility to manage my own schedule." These PSEO hybrid schedules allow students to accommodate a rigorous college coursework with fun electives.
Remember these potential college credits are free. Ms. Langlois, an OHS counselor, said, "Concurrent courses are a great way to fulfill high school requirements and also earn college credit. Many students graduate from OHS and already have a semester or even years worth of college credit!" Just because a class gives you credit from Mankato State does not mean you have to go to Mankato, but also keep in mind that credits earned from Mankato may not meet the criteria for another college. There is no guarantee the credit will transfer from one college to another college.
For more information on concurrent enrollment, PSEO and other collegiate credit options, check pages eight through ten of the OHS registration guide. For questions and guidance, see your counselor.
About the Contributor
Sixto Salinas, Writer
Stuff about me: I'm a senior. I participate in Wrestling. I am Hispanic. I'm drug-free. I'm 17 years old. I have a family of nine plus one dog. I wear...