Ice princesses brought to life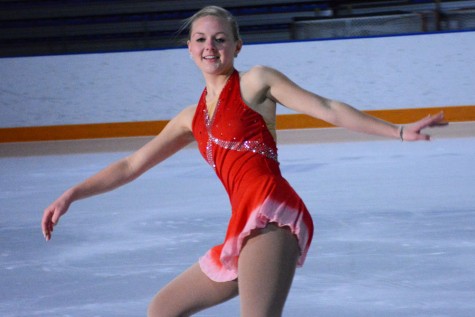 With all the sports at Owatonna High School, students tend to forget figure skating. Even if it is not an official sport at the OHS, there are students who skate in the Owatonna Figure Skating Club at the Four Seasons Centre. These students are seniors Kayla Kniefel, Krista Kniefel, Meagan Nowariak and sophomore Sophia Paley. The Owatonna Figure Skating Club performed the 2015 ice show Once Upon a Blade- Adventures in Storybook Land on Saturday, Mar. 14, which will be the last skating performance by Nowariak and the Kniefels. Figure skating it is not something that students can just decide to do and do it well, even if they have talent. Figure skating takes time, effort, hard work and dedication, suggesting it would be best to start figure skating at an early age. It also explains why figure skating is not an official sport at the OHS. Some figure skaters who participate in the Owatonna Figure Skating Club train three times a week from six to eight in the morning. Figure skating is not skaters gliding around the ice and fun costumes. There are a variety of jumps and spins they must nail. Figure skating takes a lot of strength and muscle. Krista Kniefel said, "Figure skating is a combination of strength, balance and power. Like being creative and being able to present yourself while you are doing all these intense jumps and crazy stuff that normally you would need a different mindset for."
"
"Figure skating is a combination of strength, balance and power. Like being creative and being able to present yourself while you are doing all these intense jumps and crazy stuff that normally you would need a different mindset for." "
— Krista Kniefel
Money is a big part of wanting to learn how to figure skating. Figure skating is not cheap, especially with having to buy skates, getting a coach, renting times to skate, sharpening their skates and sometimes, buying the costumes. Then again, it not all about the money. There is more to figure skating than most students may think. Kayla Kniefel said, "Figure skating is a hardcore sport, but it is also pretty and graceful." Ice skating takes a lot of work. It takes muscular endurance, cardiovascular strength, agility, power in leg strength and balance. Training is the main focus of becoming a  better figure skater. The figure skaters are also junior coaches who help teach kids and people to skate. The Kniefels and Nowariak are junior coaches in Farmington as well. With figure skating, after school activities, school work and housework, these students have a lot on their plate. Even with those obstacles, they are able to manage themselves. Figure skating is their sport- it's what they do. Figure skating can be more difficult than other sports, but that does not stop the skaters. Once someone begins to figure skate and practices for hours, the outcome will be well worth it. Hard work eventually pays off, a lesson for all of us.
About the Contributor
Lupe Gutierrez, Writer
I am a senior and a writer for Magnet. I laugh at anything most of the time, hence my love for comedy, but sadly I'm not funny at all. So, If you need...