Keeping up with 2014 alums: Andrew Stelter
Former Huskies Lineman turned Gopher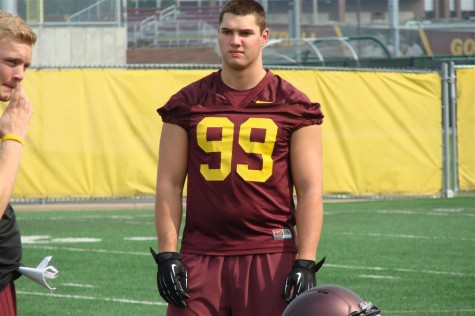 Most OHS students look for a college or university to attend after graduation. It's uncommon for a school to go out and find a student. For Owatonna High School alumni Andrew Stelter, that was the case.  The summer going into his junior year, Stelter was contacted by a Minnesota Gophers football coach asking him to attend a summer football camp to see his talent. From then on, he captured the full attention of the Gophers coaching staff. After a phenomenal junior football season, Stelter had many offers to continue his football career into the collegiate sphere. He spent the next few months reviewing his options and made his decision during the summer leading up to his senior year. Only about two percent of high school athletes receive a scholarship at the NCAA level according to CBS news.Stelter stuck to his Minnesotan roots and committed to the University of Minnesota- Twin Cities. Stelter worked hard in the offseason and helped propel the Huskies to a State Championship. A number of Huskies on the roster were recruited to play NCAA football. Many signing with division two and three schools.
"
I start with breakfast with the team, then I go to my classes. After class, we watch film for two hours, lift and then practice,"
— Andrew Stelter
Stelter spent last fall practicing and getting to know his new teammates and coaches. During the fall months, he has very little free time due to the rigorous football schedule. He rooms with three of his teammates and has created outstanding friendships with them. The average day for Stelter starts at 6:30 a.m. "I start with breakfast with the team, then I go to my classes. After class, we watch film for two hours, lift and then practice," said Stelter. He has little to no free time during the football season. The hard work pays off because he gets to play the game he loves in front of thousands of cheering fans. "Some of my favorite parts about playing football is the energy of the crowd, traveling to new cities and seeing the different stadiums," said Stelter. He was able to compete in the Buffalo Wild Wings Citrus Bowl in Florida this year. Stelter and the team also visited Disney World while in Florida. "It was awesome, and I had a great experience," said Stelter.
Stelter is currently studying kinesiology to pursue a career in Physiotherapy. Stelter is known for being dedicated, excelling on the field as well as in the class room. His determination to better himself made him an outstanding alumni that the Owatonna High School students and staff are proud of.
About the Contributor
Nate Clark, Writer
Nate Clark is a senior at Owatonna High School. He is involved heavily involved DECA and lacrosse. He is attending Creighton University's Heider School...