OHS local artist to headline in Mankato
When musical talents get mentioned in the high school, people tend to think about students in choir, band, orchestra, the musical and the talent show. What some people do not know is besides being a part of a musical course(s), other people take music seriously, in a different way. They love music enough to try forging a future and take opportunities to showcase their talents. Senior Raymond Din IV has that passion and is looking forward to headlining a show in Mankato on Saturday, March 28.
Din's musical interest began when he was in kindergarten, when he would impersonate and perform songs from Nelly in front of his mirror. His idols were 50 Cent, Eminem and Nelly. Fast forward to seventh grade, and Din's interest came back after watching a YouTube video with his friend Cedric James. The video was of someone rapping. After watching it, Din thought, "I can do that." The next few years, he would take his interest and have fun with it, writing freestyles and covers, and recording with his friend Isaiah Dawson. He would eventually form Midwest Philosophy, a hip hop group, with Cedric and Tony Pineda.
During his sophomore year, Din would start to take his ambitions seriously by purchasing his own equipment to make and record his own beats and songs. He also taught himself to use all the equipment along with a music producing software. Din writes his own songs, records them and usually creates his own beats. Din would later take his passion and newfound skills and leave the group to become a serious solo artist. In November 2014, Din would label himself as "IV" as a personal homage as he is the fourth generation of Raymond Din. He said, "I thought I'd use and abuse it." In January, Din began to have merchandise produced. His merchandise consists of hats and shirts with his insignia on it.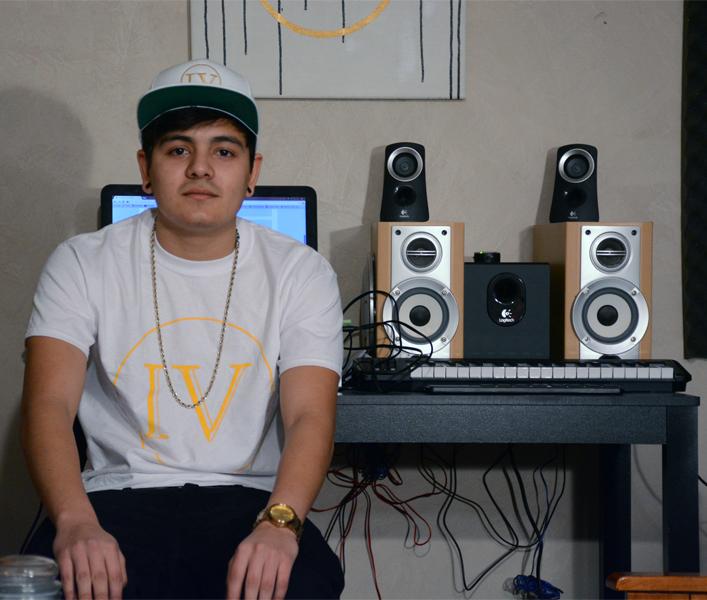 Din has come far since his early beginnings. His inspiration nowadays comes from Jez Dior, G-Eazy, Mod Sun and Skizzy Mars. The reason being that each artist and group has a unique style and strays away from mainstream music. Din's music is Hip-hop, which is also his favorite genre of music. When asked about his favorite part of performing, he said, "Being on stage and having all eyes on me. It's rewarding because they came to see me." Din also mentioned how enjoyable it was to crowd surf.
Din has received support from his friends and family, even naming his two friends, seniors Samuel Noeldner and Justin Goeman, as his security. Din is now looking forward to his second show on Saturday, March 28,  at the Stardoc Studios on 509 South Front Street in Mankato. Tickets will be $10 at the door. Doors will open at 7:30 p.m., and the show will run from 8-11:30 p.m. Din will be one of three performers. The venue is open to all ages. Shirts will be available for purchase at $15 a piece. Support a local artist, and fellow OHS student, in his desires to become something big.
Ray's contacts:
Facebook: IV
Twitter: @TheReal_IVMusic
YouTube: IV Music
Instagram: thereal_ivmusic
ReverbNation: IV
About the Contributor
Sixto Salinas, Writer
Stuff about me: I'm a senior. I participate in Wrestling. I am Hispanic. I'm drug-free. I'm 17 years old. I have a family of nine plus one dog. I wear...