Two clubs uniting together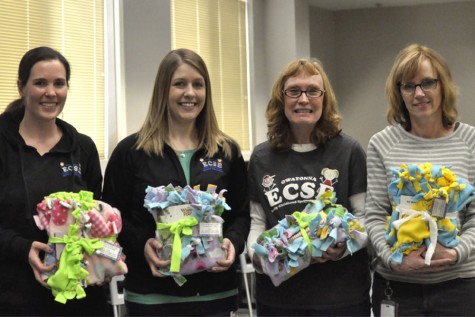 This month, the Owatonna High School's Book Club partnered up with Key Club to make blankets for young children so they can give them to the underprivileged families who cannot afford to buy their child a blanket. After school on Monday, February 9 both Key Club volunteers and Book Club members began making blankets. Not just any blankets, this year the Book Club has changed it up. Last year, Book Club made regular blankets but this year was different. They decided to make tie blankets which required less materials and less time, meaning they were able to make more blankets this year than they did last year. In total, Book Club and Key Club made fifteen blankets to give to underprivileged families. Making the blankets took about one and a half hours for both groups. This is the first time in years for Book Club and Key Club to come together and work as a whole group.
New Book Club member Karrie Villarreal said, "It is a good opportunity for both clubs to come together and make something wonderful." Book Club normally doesn't ask other OHS clubs if they would like to help and work with them on something, but with book club running low on members, the more help, the better. It would also be Key Club's first time working with another group. The Key Club's president Lindsey Neubauer said, "I feel like it is a good partnership working with Book Club because we contribute both of our missions to one cause. It also makes you feel good knowing that the blankets and books are going towards people locally. I hope to work with Book Club again, especially on this project. I've done it three years now and I am excited for next year and how it'll turn out." Book Club appreciates all the help Key Club did with the blankets and gives great thanks to Key Club for lending a hand. Book Club would not be where they are today without their help. Book Club is wanting to portray to the students that they are not only a club that reads book once a week, but that they also find ways to help out our community in any way they can. With the help of Key Club, volunteering may also encourage participants in Book Club to join Key Club or the other way around. The founder of Book Club and adviser, Patsy Wall, said, "I think it is very good that Key Club participated with us. We work very well together and all the students know what they are doing."
Coming next, Book Club and Key Club plan to participate in From the Heart . They will be coming together for a second time to help one another at the pasta dinner, the auction, or at the water stations. It is still undecided which they will participate in, but look forward to seeing Book and Key Club coming together once again.
About the Contributor
Lupe Gutierrez, Writer
I am a senior and a writer for Magnet. I laugh at anything most of the time, hence my love for comedy, but sadly I'm not funny at all. So, If you need...