GardenUp announces grand opening
As a lot of students have noticed that the courtyard at Owatonna High School was much in need of some tender loving care. Senior, Ella Rasp, made it her initiative to see to the revitalization of the neglected courtyard at Owatonna Senior High. "I've always been a big believer in public spaces, especially in green spaces, as building blocks of a strong vibrant community. Hopefully GardenUp can contribute to that at OHS." Said Ella. To make the space more appealing to students there was work to be done. Right away weeds had to be pulled and fresh sod laid. Not to mention the ornamental grass, sage and columbine flowers that were planted as well.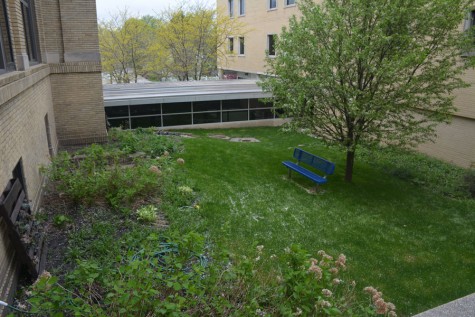 The grand opening was planned for today Friday May, 8, but with the mucky weather in recent days and the cloud cover today that has been postponed. The next decent weather day will mark the Grand Opening of the courtyard area. Here and until the end of the school year the door outside will be opened during all lunches, students can bring their lunch out and take a seat with friends in the open air. There will be picnic blankets available to sit on and a bit of music in the background Friday. Take advantage, have a picnic today in newest revamp at Owatonna High School.
For the latest news follow @GardenUpOHS on Instagram and Twitter.
About the Contributor
Justin Goeman, Writer