Getting down to business
DECA helps prepare emerging entrepreneurs and leaders for careers in finance, marketing, management and hospitality. During the school year, over 100,000 students take part in DECA's competitive events program. This allows them to compete for local and regional titles. These competitions are designed to simulate real-life business scenarios and test students' academic understanding and the development of their skills.
On April 24-29, Owatonna DECA members Morgan Malo, Amber Holte, Taylor Gaveske, Jack Livingston, Luke Bunkers and Ghoutham Manokar attended the DECA International Conference in Orlando, Florida. Of these students, senior Jack Livingston was the only one to reach the final round.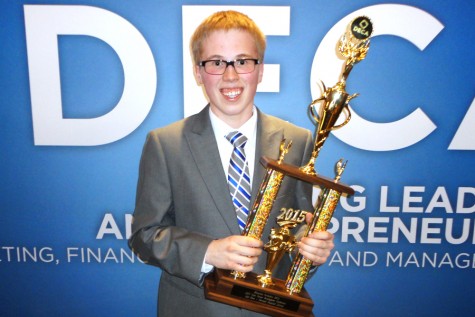 Livingston competed in the Personal Financial Literacy event where he completed a role play and took a finance test. Livingston said, "The competition was a great experience that helped me gain career skills with finance. I made it past preliminaries and into finals, but didn't place. Despite this, I still had a lot of fun, and at the competitions, the judges really knew what they were talking about."
To qualify for nationals, DECA members must qualify for regionals and make it into the state finals.  Livingston said, "At the competition I had to do things like balancing a checkbook and in the finals I had to create a will. This competition really helped me learn how to think on the spot because you are never prepared for what they are going to have you do.  It also enhanced my communication skills. After this experience, I thought about investment banking as a career, and would like to do something finance related for a living." This was the first time an Owatonna DECA member has made it to the finals.
While DECA is over this year, if you are interested in joining next year, watch for information at the beginning of the 2015-2016 school year or talk to business teacher Mr. Scott Pierce at the beginning of the year.
About the Contributor
Kristen Rysavy, Writer
I was born and raised in Owatonna, Minnesota. In elementary, I grew up learning in a private school until I was in eighth grade. I'm a senior this year...