"Setting" up for a great season
The OHS Volleyball team is off to a hot start in conference play, starting 3-0 with wins against Red Wing (3-0), Rochester Century (3-1), and Mankato east(3-1). The team is led by senior captains Carli Langeland and Elise Oppegard. Langeland said, "The Century game has been my favorite part of the year so far because everyone played really well and aggressive." The Huskies defeated the Panthers, who were undefeated coming into the game, 3-1. Langeland finished the match with a team high of 15 kills. The team lost to Rochester Mayo 1-3 in its 4th conference game of the year, but they are looking to bounce back on track with a couple road games before returning for homecoming week.
The Huskies also traveled to Marshall for an annual out of conference tournament where they went 3-2. Senior Karissa Hilstad said,"We're all really good friends and are basically like family." Head coach Jason Kaytor agreed with Hilstad. Kaytor said, "All the girls get along really well, and they've gotten very familiar with each other on the court." To catch the girls in action, the team will host Winona on Oct. 1 at 7 p.m.
About the Contributor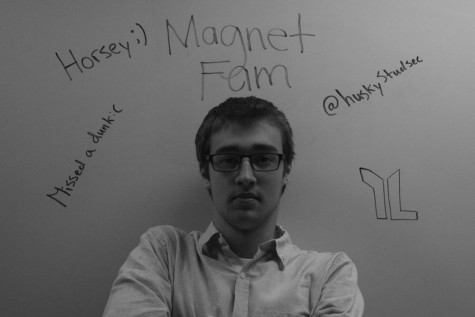 Mason Thein, Writer/Photographer
I'm a senior at Owatonna High School. I play basketball and am involved in DECA, Younglife, and of course Magnet. Once I graduate, I plan to attend college...