Girls Swimming & Diving midseason recap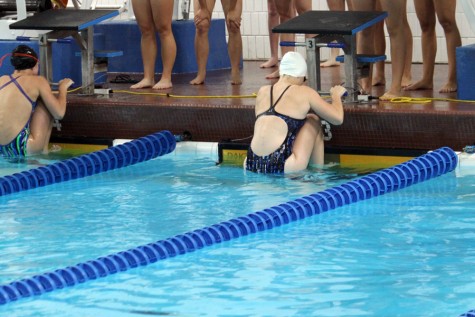 Halfway through the season, the Owatonna Girls Swimming & Diving team is finding their stroke. Their first dual meet of the season was against Rochester Mayo and served as a wake up call for the girls. Swimming against the back- to- back Big 9 Champs, they realized hard work would be a necessity for them to improve their times.
Their next meet went smoother with a sixth place finish at the Richfield invite, which was new for the Huskies this year. The Richfield Invite was followed by a seventh place finish at the Lakeville Relays. They won the Mankato East dual and are fresh off a close fought loss to a talented Rochester JM team.
The Girls Swimming and Diving team have kept their heads up and battled through adversity. Senior captain Lydia Anez has optimism for the future and said, "I'm excited to see where the season will end up at sections this year. The girls and I have started with much better times than we started off last year with and have worked really hard to be where we're at today." Head Coach Isaiah Fuller also had something to say about the effort being exhibited by the team this year. He said, "The season is going very well. This is the hardest I've pushed them in my four years coaching. Not only are they working hard, but they are also swimming great times. We will continue to work hard throughout the season and focus on the big meets at the end of the season, I'm excited to see what these girls can do." OHS Swimming and Diving hosts Northfield at the Owatonna Junior High School Oct. 8, at 6 p.m.
About the Contributor
Alec Holcomb, Sports Writer
I'm a senior at Owatonna High School. I play football, hockey and baseball. I am also involved in DECA and Younglife. I hope you enjoy what I write.