Cheering on the Huskies
Football cheerleaders have always been a fixture at the Owatonna High School. Once a cheerleader at the school herself, Head coach Mara Oien has been instructing high school cheer for twelve years. This year's squad started the season together by attending the Universal Cheer Association summer camp on July 17-19. The ladies jumped into unfamiliar stunt groups, but quickly built trust with one another. New techniques were demonstrated and attempted. After a little adjusting, stunt groups even performed an Arabian twist, which consists of the flyer being rotated both sideways and forward. At the end of the camp, the smaller than usual squad did not disappoint. The Husky cheer squad took home the gold for their performances in both the cradling and holding challenges.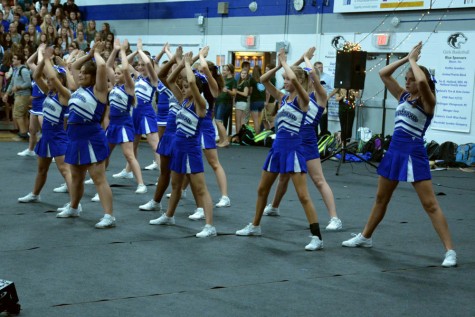 There are several traditions involved in cheering, including senior push-ups. Every time the Owatonna football team scores, the senior cheerleaders do as many pushups as the total score. In the Sept. 18, game against Austin, captain Zoie Peña and fellow seniors Carline Reebie and Justine Roemhildt did 322 push-ups. In regard to the extra conditioning, the seniors do not complain. Peña said, "I always feel so good after doing them, and it's nice that the student section gets so into them." As the football team improves, so must the cheerleaders; challenged to improve stunts and dances.
The beginning of the 2015 cheer season is leading to great things. Excited to show off some new stunts at the Homecoming pepfest, the squad is well-prepared. Coach Oien is looking forward to the event saying, "I love seeing the school spirit throughout our student body, and I love that the cheerleaders get to take such an active role in spreading that school spirit." The many weeks of early morning workouts have paid off, and the ladies look strong and confident on the field. It has been an impressive start to the 2015 football cheerleading season.
About the Contributor
Carline Reebie, Writer
Most people know me as Carly. I am a senior at the OHS and a varsity football cheerleader. I plan to pursue a career in biotechnology so if I destroy the...