German foreign exchange students
New classes, new teachers, new policies, new Germans? This year at the OHS, there are 17 German students attending classes with an American host. Most of the 17 were host to the 16 Owatonna students over a three week span this past summer. OHS's foreign exchange student program took 16 students to Southern Germany for three weeks over the summer to stay with German students and families, and now, the roles are reversed.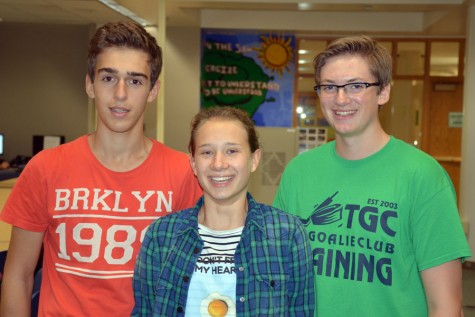 One of the pairings is Owatonna's Joey Howell and foreign exchange student Dominik Hermle. The two lived together in Germany for three weeks in the summer, and now Dominik is living with Joey. In Germany, Joey's favorite experience was Maintag. He said, "It was pretty much like a smaller version of our fair with less rides, but more things to do." Living and going to school in Germany is different and similar to the OHS. Joey was quick to point out the differences in schedule and class material, saying, "They had classes from 7:35 a.m. to 12:30 p.m. and sometimes had afternoon classes from 2:30 p.m. to 5 p.m. The classes were just core classes, not a lot of electives." Dominik also reflected on the difference in schooling, saying,  "The way you guys talk to your teachers is a lot different. In Germany, it's quite distant, while here it's more friendly, and I really like that." Together, the group went paintballing in America and went to Duluth.
It's a lifelong friendship in the making for OHS junior Anna Weisenberger and Valeria Elsesser.  Weisenburger was another student who experienced what it was like to live in a different country for three weeks this past summer. Weisenburger said, "I really enjoyed taking German and finally being able to apply it.  It was an all around amazing trip." It seems this exchange setup is really beneficial to the 35 students involved. Both mentioned they would continue to call, email and message each other on Facebook.  Weisenburger commented, "We will definitely continue to stay in touch," which was very important to her. Both agreed they were so happy they decided to do this and would definitely do it again. Elsesser said, "Anna was such a wonderful person to come and stay with me." The connection between these two is very strong. This exchange trip helped 17 students from OHS and 18 students from Germany create a bond most high school students will never experience. These German students will have a lot to chat about on their time in America when they return home in a week. The Germans trip to America and the OHS ends on Spet. 26, but the friendships and memories made in both Germany and America will last a lifetime.
About the Contributors
Nathan Deason, Staff Writer
You know I like my chicken fried. 'Merica.
Aidan Ebner, Staff Writer
I am a senior and this is my second year on the Magnet Staff.  I am a writer and editor on staff. I enjoy being apart of the voice of OHS.  Make sure...