Owatonna girls cross country team takes on annual Ev Berg race
The Girls Cross Country team competed in the annual Ev Berg Cross Country Invitational on Thursday, Oct. 8. Ev Berg was the man who started the cross country program at the OHS and coached Track and Cross Country for a long time. The Invite has been held for many years now, but it has been especially important to the people of Owatonna these past couple years. Berg passed away in the summer of 2012 after a battle with Alzheimer's.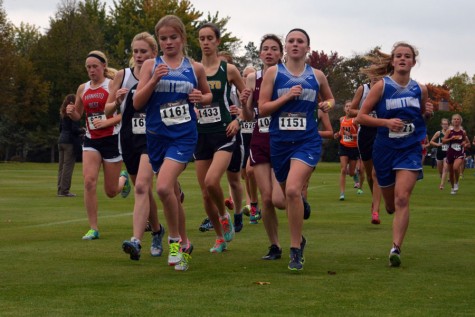 The Ev Berg invitational is the only home meet for both boys and girls this year, besides the Big Nine competition and sections, which are both held in Owatonna. Senior captain Hannah Cochlin said, "The Ev Berg is awesome, it's one of only three home meets we have and everyone in the community comes out and cheers us on." Leading the girls varsity team was junior Sara Wall who came in 12th place out of 82 total girls with a time of 19:57. The girls placed 8th as a team out of a total of 12 teams. Head Coach Dan Leer said, "The Ev Berg gives us a good indication of how we match up against many of our Big Nine opponents." Their next home meet will be the Big Nine conference meet on Oct. 20, followed by the section meet on Oct. 29. Both meets will be held on the Brooktree Golf Course upper nine.