What it means to throw "Like A Girl"
OHS freshman quarterback sets a school first
Most athletes can think of a time when they took their first steps on the game field. Freshman Mia Hiber's memory is more recent than some of her teammates. Hiber is in her first year of organized football, but she is hardly a rookie. Having played backyard ball since first grade, Hiber has a "backyard element" to her game.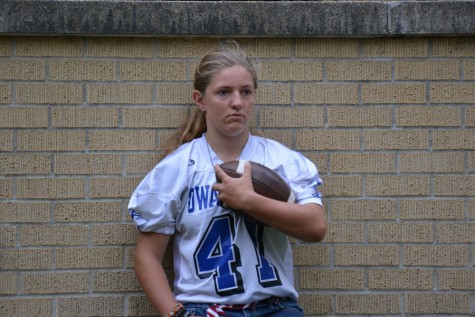 Although Hiber makes up a small percentage of female football players, she isn't alone. According to CNSNews.com, "1,531 females participated in high school football in the 2013 season." In 2008, OHS Football also had another girl in the starting line up, kicker Betsy Dietz. Dietz, like recent OHS kickers, lettered twice in the fall-once in football and once in soccer. ESPN wrote an article about girls who aren't afraid to play.  The article shows that the number of females participating in high school football is growing and soon could be the future of football.
Hiber received no special treatment when she joined the team. She signed up like the boys, practiced the same amount as the boys and competes like the boys. When asked about her first experience on the team, Hiber said, "They were hesitant at first, but now they just treat me like one of the guys." Like most, she admitted to having some pre- game jitters, but her performance wiped out any doubt if she had what it took to play or not. Freshman Coach Dean Walters said, "Football isn't a game for just for boys anymore." When asked what he liked about Hiber, he said,  "She takes control of the huddle." Walters has coached girls before and has the same expectations for her as everyone else on the team.
"
Football isn't a game for just for boys anymore."
— Freshman Coach Dean Walters
Leadership is a vital quality to have, but it is arguably the most important for a quarterback. Senior quarterback Alex Emanuelson said, "As the quarterback, you need to know what everyone does on any given play. Earning the respect of your peers is a crucial part of the position." Hiber has not only lead the team into battle with her words, but also with her arm. She has successfully lead the team on multiple scoring drives and started her second game of the season Monday, Oct. 12, at Rochester Century. The game against Century was the freshman team's final game of the year. Hiber was injured during the game, and the team fell to the Century Panthers 13-45. That loss put them at a 3-5 mark on the year. Although the team had a sub .500 record, Hiber did make history as the first OHS female QB to score a touchdown.
About the Contributor
Brady Ruiter, Sports Editor
My name is Brady Ruiter and I love Magnet. I am in a few lesser known activities that include playing guard for the football team, throwing the shotput...