Huskies football gearing up for postseason play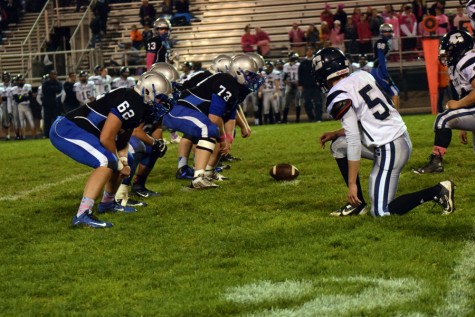 Preparation is key for the Owatonna Huskies Football team. Fresh off of winning the first ever Big Southeast Red Division title, the Huskies Football team has had no time to stop and think.
The team finished their regular season on Oct. 9, with a 35-13 win over Rochester Century. They finished their season with a 7-1 overall record. Their one loss was to the number one ranked Mankato West Scarlets in the first game of the season on Aug. 22. Since then, the Huskies have been unstoppable, rattling off seven straight wins by a point margin of 112-315.
The formerly known Big 9 Conference split up this year, and the Big Southeast Division was created. The Huskies are a part of the big school bracket of the new division, known as the Red division which consists of Rochester John Marshall, Rochester Mayo, Rochester Century, New Prague and Northfield. The Huskies 7-1 record earned them the Big Southeast Red Division title. Owatonna senior defensive lineman Sam Callen had something to say about winning the Big Southeast Red Division. Callen said, "It's quite the accomplishment knowing that we are the first team to win the Big Southeast championship. It's awesome seeing how far we have came this season, but we also know that there are bigger fish to fry down the road."
Although the team has had much success thus far, they know they have no time to celebrate. The Huskies begin Section play in a single elimination six team tournament on Oct. 20. The Huskies received the number one seed and a first round bye and will play the winner of 4th seeded Northfield and 5th seeded Rochester Century. Rochester Mayo received the 2nd seed and will also have a first round bye and will take on the winner 6th seeded Austin and 3rd seeded Rochester John Marshall. The Section Championship is scheduled for Oct. 24, and will be held at the highest seed's home field.
The Owatonna Huskies football team knows they must take it one game at a time. When asked about his thoughts on the season accomplishments, Head coach Jeff Williams said, "It's really cool, but we have known all along what we're trying to accomplish this season. That includes a Section title and a run at the State title." Cheer on the Owatonna Huskies Football team  Tuesday, Oct. 20, at Owatonna High School.
About the Contributor
Alec Holcomb, Sports Writer
I'm a senior at Owatonna High School. I play football, hockey and baseball. I am also involved in DECA and Younglife. I hope you enjoy what I write.