Travel the world with OHS
[infogram id="ohs_trips-4991252″ prefix="7×5″ format="interactive"]
Ever had an inkling to explore, sightsee and experience the world in a whole new light? Then, the Owatonna High School might have an opportunity. This school year, OHS is offering three different world traveling experiences for students. Students can either decide to explore the Colosseum in Rome, enjoy the pacific-side beach in Costa Rica or sightsee in beautiful Paris, France.
Italy & Greece
Students have the opportunity to experience all Italy and Greece have to offer, traveling from June 25- July 3, 2016. The current cost for the trip is $3,817, and registration though travel partner Explorica is $50. By registering, the exact trip price is locked in. This price includes round trip airfare, transportation, sightseeing, hotels, breakfast and dinner daily, as well as a full time multi-lingual tour director. Although the price is high, students can fundraise for their trip. This year, students will be conducting a raffle in November, selling candles and poinsettias in December and "Buy Me Lunch in Italy" fundraiser in the spring. Social studies teacher at OHS, Mrs. Erin Halverson, is in charge of arrangements for this trip and also will be chaperoning. Mrs. Halverson said "The most beneficial part of this trip for students is probably just that idea of traveling to some place else and seeing what life is like for other people, just opening up that world of travel." A few of the amazing places students will visit are the Pantheon, Vatican museums, the Sistine chapel, and Olympic site. The deadline to register is Oct. 30, if interested see Mrs. Halverson in room A-308.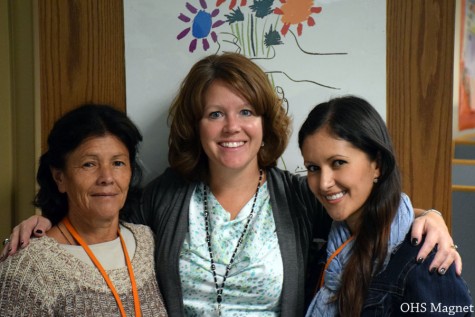 Costa Rica
The students at OHS have another option- traveling to the magnificent Costa Rica from June 14 to June 26. Mrs. Nikki Snyder-Roberts, a Spanish teacher at the OHS, is in charge of the arrangements for this trip. To qualify for this travel experience, students must have taken at least two years of Spanish, and the cost is $3,049-$3,149. This includes roundtrip airfare, seven nights of hotel accommodations and breakfasts, six nights of a family-stay arrangement, six pre-planned dinners, excursions and travel medical insurance. On this trip, some of the experiences include travelling across Lake Arenal, exploring San Jose and getting the amazing experience of a family stay where the student lives with a native family and really emerses themselves in the culture. Mrs. Snyder-Roberts said "I would say the most exciting part of our upcoming trip is the family stay. Most students are nervous about that part, but it ends up being the best part of most trips." To sign up for the trip to Costa Rica, register by Oct. 30 and contact Mrs. Snyder-Roberts in room C-305.
France
As if all of these trips weren't enough, students at OHS also have the opportunity to travel to France from June 14 to June 30. The cost for this trip includes roundtrip airfare, transportation, sightseeing, hotel, breakfast and dinner daily and a full-time multi-lingual tour director. Ms. Jennifer Herr, a French teacher at OHS, is planning on attending this trip with the students and is in charge of arrangements. Students will delve into the French culture by visiting the Notre Dame Cathedral, exploring the city of Nice, experiencing two days in London, England and much more. Luke Holzerland, a senior participating in the trip said, "The part of this trip I am looking forward to the most is immersing myself in french culture for two weeks and learning more about France though my own experience instead of through a textbook." If interested, or if you have any questions, contact Ms. Herr in room C-201.
About the Contributors
Maria Golberg, Writer
Would cut off three limbs to go to Hogwarts
Christian Kelling, Photo Managing Editor
Photo Editor! I also take photos sometimes! Look ---------->