Planning ahead
College and Career Fair on Wednesday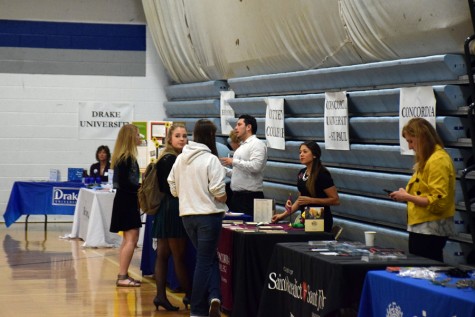 The Owatonna High School's annual college and career fair will be held in the gymnasium on Nov. 5. During first and second period, each grade has an assigned event to attend. Third and fourth hour will be as normal. Freshmen will be working on the MCIS web site, completing a scavenger hunt that will help them discover their career interests, as well as working on an activity called Anonymous Extraordinaries. After they are done with the two activities, they will be able to join the upperclassmen in the gym to look at the college and career fair.
Sophomores will be taking the PLAN test, which is in the ACT series of tests. After finishing the tests, they will also be able to join in the college fair activities. Juniors and seniors will be going from booth to booth to chat with some of their top college choices to learn a little bit more about each individual school.
There will be 31 colleges attending.These include technical, public and private schools. There will also be 18 local businesses. Whether you already have committed to a college or not, making the most of this opportunity will be very beneficial to your future. This year, the staff is very excited for the eye opening opportunities they have planned for the students. Principal Mr. Mark Randall said, "Students get a chance to see what types of colleges are out there, and the types of careers they might want to consider as they get closer to graduation." The fair helps students explore colleges face to face without having to leave Owatonna. Counselor Mrs. Vicki Berdan said, "The college fair will benefit the students by giving them the opportunity to learn about colleges without actually going to them making this more accessible for our students." The fair will help students to get a better idea for as to what their next step is for after high school and be able to set goals for what road they decide to go down.