Going for the goal
The OHS Boys Hockey team has been striving to reach the top of the big nine conference. Currently Northfield has the best record in the conference at 11-1. With a record of 7-4, the Huskies need to keep up the pace as they did this past Tuesday in their game against Northfield.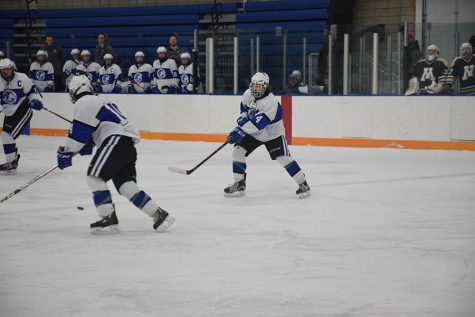 Owatonna handed Northfield their first loss of the season with an extremely close game. The final score ended up being 3-2 after the huskies pulled through with the win in overtime. As the victory came late in overtime with the help of Junior Tyler Wencl who secured a hat trick with the game winning goal as the clock ticked down in the final minute of overtime.
Thursday night the boys hockey team faced off against Rochester John Marshall and came away with a 4-1 victory. Again, Wencl contributed with the opening goal in the first period.  Junior Nate Smith and Senior Carter Broton (2) both scored with goals of their own. Junior starter said, "We are in the home stretch with 4 games next week, so our practices are lightening to give us a chance to rest our legs. We are working on practicing the way we want to play in games to allow us to play at our best."
The next time the boys hockey team will play will be in Saturday, Jan 4. They will be away at Rochester Mayo. Earlier this season the huskies defeated Rochester Mayo in a 4-2 game. Come cheer on Owatonna boy's hockey at their next home game against Chanhassen on Monday, Feb 6. Go Huskies!