National Siblings Day
Monday, April 10 is National Siblings Day. No matter how annoying they may be, it is important to remember and appreciate how much they do for us. So, what better way to celebrate National Siblings Day than to talk about some pairs siblings that attend the Owatonna High School.
Brother relationships tend to be about competition, and there aren't many competitor brothers like Ben and Nick Staska. Ben is a senior here at OHS, and Nick is a sophomore. According to Nick, the two get along pretty well on most days. Besides looking a lot alike, the two brothers do their own thing, which is okay. Siblings do not always join the same activities. However,they both share an interest in football. Where they differ is when Ben plays baseball in the spring while Nick wrestles in the winter. Ben says, "I love how hard Nick works, and he always has high spirits."
As far as sibling bonds go, sisters seem to be really close. A set of sisters attending OHS are Camryn and Sydney Bartz. Camryn is a freshman this year and Sydney is a senior. They both compete in cross country, and like to go shopping together and travel, specially to warm places to go boating. They also both like to watch Netflix together. Camryn and Sydney also like to go to Mizuki Fusion as well as Cossetta's, an Italian restaurant in St. Paul. Sydney says, "I like how she's always willing to meet new people or try new things."
---
Seeing Double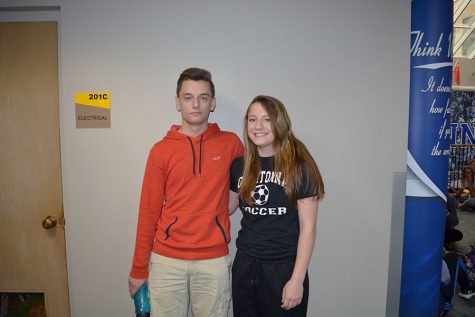 OHS is home to many sets of twins.  In the junior class there are three to showcase.
One pair of siblings are the twins Bria and Brayden Wachowiak. Bria was born first, being 13 minutes older than Brayden. Bria does think that there is a special connection that her and her brother have that is different than most siblings, but she can't quite explain it.It is an "if you know- you know" kind of situation. One thing both take part in is soccer. The "one" thing Bria says that she would change about Brayden is his taste in music, but she says, "I love that he's always there for me when I need him."
Another pair of twins at OHS are the identical twins Nick and Nate Smith. If the similarity in their names doesn't mess you up, they are nearly indistinguishable in appearance. Nick, born first, is 10 minutes older than Nate. Both Nick and Nate play hockey and soccer together, and at home the two like to watch TV and play video games. Nate says, "When I beat him in NHL or Fifa, he tries to fight me." A great part of having is the playful fighting over small things.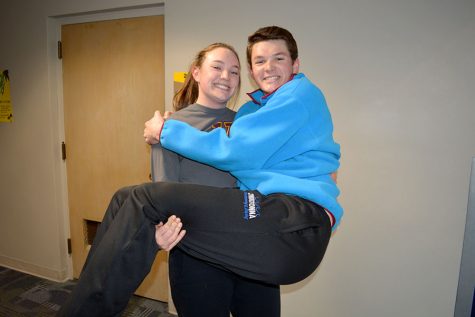 Seeing doubles again with Ben and Ahnna Stelter, Ben being the on born earlier by 16 minutes. They are juniors this year. Ahnna says, "We do everything together, homework, play outside in the driveway, watch tv, and just hang out." Their favorite places to go out to eat are Mizuki Fusion and the Blast.
Fighting with siblings is natural. It can be the small fights or  sometimes for no reason, but it is  good to take a day to celebrate the ones close to us. There are plenty of siblings that attend OHS and it is great to see the pairs in the halls together. Lots of people are posting pictures and captions of appreciation of their siblings today.  Make sure to tell your sibling or siblings how much they mean to you today.