Jensen to State Tournament for second year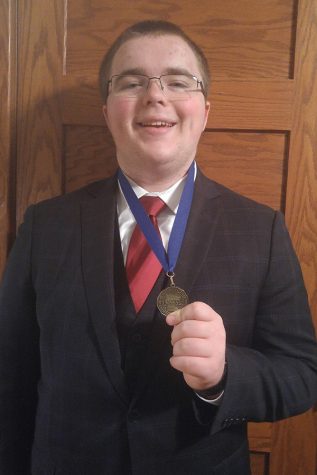 The OHS Speech Team wrapped up their team season last week at the 1AA Section Tournament. However, Sheldon Jensen will return to the Minnesota State Speech Tournament for the second year. The team was able to send Kjerstin Anderson, Claire Borgerding, Jensen and duo Emma Stockwell and Lydia Weisenburger to the section finals with the top three in each category moving on to the state tournament. Jensen was the section champion for Great Speeches and will continue his junior season at the Minnesota State Speech Meet.
Out of the 13 categories in speech, Jensen participates in the Great Speeches category. This category asks competitors to use rhetorical and speech theory to analyze why a speech that has been given in history is significant and stands the test of time. Not everyone can go and speak about President Calvin Coolidge speech on the 150th anniversary of the Declaration of Independence. Jensen was able to show the timeliness of President Coolidge's speech then and how the message is still relevant today. "We often view the Declaration of Independence as a document that doesn't mean anything today, my job is to help people understand the finality of the propositions made in the Declaration of Independence," said Jensen.
Last year Jensen placed third in the section and qualified for the state tournament in the same category. Now he has made his way to the state meet for the second year in a row. He stated that he has made a lot of improvements on his speech and feels confident about it.
Sheldon is the only student from OHS to qualify for the state meet. This is a significant accomplishment for him and also the OHS Speech program. Jensen has a very positive attitude towards the outcome of the State meet, whatever that may be. Jensen said, "My goal at the beginning of this season was to be the section Champ and after completing that goal I feel satisfied and whatever happens at state is just the icing on the cake." The State AA Speech Tournament is held at Apple Valley High School on April 21. The top twenty-four students in state will compete in the 13 categories. OHS congratulates Jensen on this incredible achievement and wishes the best for him at State!