Owatonna's scholarly students
On Wednesday, May 24, the 2017 Scholarship Award Ceremony was held in the Owatonna High School Auditorium. It was all made possible by the generosity of the families of Owatonna, previous classes, businesses and associations in town and the donations from specific colleges. The rewards were announced by many different representatives. There a was an accumulative amount of $540,000 given away Wednesday, with five scholarships for four years and 11 that were for $2,500 or more.
By far, the largest scholarship given earned was the MSU Mankato ROTC St. John's scholarship. The reward was for $185,000 and was given to senior Sara Wall. Other noteworthy scholarships include the Meilahn Family Scholarship for $4,000 per year for four years going to Ethan Dekam, the Ed Stepanek scholarship for $10,000 each year for four years going to Drew Hudock and Britta Gantert and the four year Charles and Norma Buxton scholarship for $5,000 each year going to Jay Sullivan. There were two large scholarships to specific colleges given away as well. A $10,000 per year scholarship to the University of Rochester, NY which went to Allyson Lenz, and a $25,000 per year scholarship for the Rensselaer Polytechnic Institute awarded to Bretton Ruiter.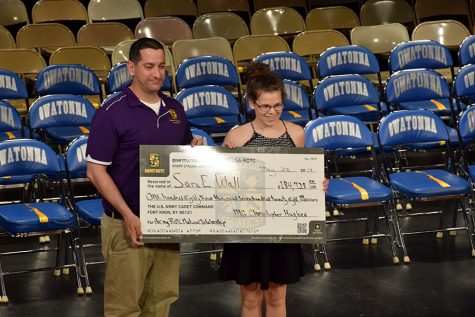 Many scholarships were given away from the Owatonna High School programs. All these scholarships create great amounts of opportunities for the graduating class and future classes of OHS. The 2017 class distinction and high distinction students were recognized Wednesday also. Shannon DeWitz said, "That night is for the acknowledgement of the students who deserve it and for the gratitude of the scholarships." The Distinction students were given their graduation cords and tassels and got to come up on stage in appreciation for all their hard work and dedication.
High school is a long, interesting journey, and for the Class of 2017, it is coming to an end. Congratulations to the many seniors and occasional juniors who were rewarded on Wednesday, and in the words of Mark Randall, "The tassel is worth the hassle."