Cash Drive ends week with OHS Mangeant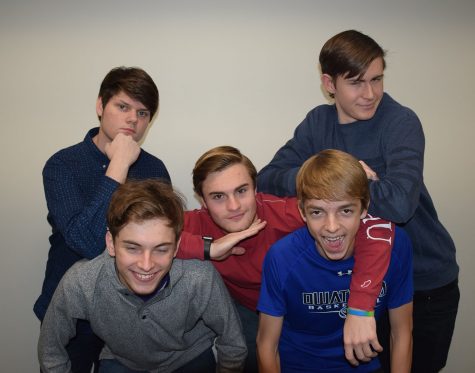 The 2017 OHS Cash Drive will close with one of the most fun and unique way of bringing in money. This year's Mangeant will take place on Friday, November 17, at 8:00 p.m.  in the Owatonna Senior High School Auditorium. The goal of the Mangeant is to raise money for the Cash Drive benefactor, and this year it is Dickinson High School in Texas. As told in a previous Magnet article, Dickinson was heavily affected by Hurricane Harvey. The cost to get into the Mangeant is $5 at the door. There will also be concessions and a few raffles taking place. As a part of the performance, contestants will also go around trying to collect money that will help them in the competition.
 The OHS Mangeant will feature some of OHS's finest gentlemen. The students participating are:  freshmen  Ashton Jensen, Jack Titchenal, sophomore Noah Wagner, junior Nathan Buegeler, seniors  Nick Hagen Nick Sande, Jeff Brooker and Will Titchenal. Jensen, a new contestant this year, said, "I'm young, and I'm ready to fight. I'm young and beautiful."
The Mangeant veterans, including Nick Hagen, Nick Sande and Will Titchenal, have prepared for their favorite events. Nick Hagen said, "I'm a big fan of the lip sync battles, I think what people bring to that is the most fun of the night." Will Titchenal shared a contrasting opinion, "My favorite is definitely the talent portion, it's where you get to be the most creative."
The contestants will have a collection of events for the audience which will be judged by Mrs. Marcia Anderson, Mr. Erik Eitrheim and Mrs. Jessica Wagner. The night will be started off with a classic opening dance to It's Raining Men by The Weather Girls. Next, the contestants will also be challenged to do a girl's makeup and hair with a limited amount of time. Then there is a talent portion where the contestants display some rather comical, talented skits. Following that, each contestant will lip sync to two different songs. Finally, the participants will have a questionnaire with the hosts.
The Mangeant is open to the public. Come and support the beautiful men of OHS this Friday and support this Cash Drive week for only $5!