Season of Giving: Helping the homeless
Editor's Note: This is a series focused on needs and volunteering opportunities in the Owatonna Community.
The holiday season is filled with joy, giving and family, but there is a problem in  communities that is often hidden. As the temperature drops, homelessness steps into the light. Homelessness is a pressing issue in many communities, and it is especially harsh during this time of year. There are organizations throughout communities to combat homelessness, and there are many opportunities to aid them through volunteer work, donations and employment opportunities.
The Hospitality House of Owatonna, Inc. offers temporary and emergency accommodations for men who are transitioning through homelessness. They are located across from the Owatonna Education Center. They are a non-profit organization that focuses on providing safe, clean, and comfortable housing.The house receives no government funding, so they solely dependent on the donations and empathy of the community. Some especially important donations other than cash are laundered clothes, groceries, new toiletries and clean sheets.
Another Owatonna aid for homelessness is the Transitional Housing of Steele County which began in 2000. It was started by a collection of community leaders who wanted to make a difference by ending homelessness. The transitional housing serves over 300 people in Steele County by helping families locate affordable housing and by providing deposit and first month's rent for housing.
Most of the Homeless are victims of poverty or abusive relationships. The support of each individual and their family lasts for up to 18 months. Transitional Housing of Steele County is funded through grants by the Office of Economic Opportunity, the United States Department of Housing and Urban Development, the Office on Violence Against Women, the Otto Bremer Foundation, the WCA Foundation and the Jennings Foundation. They are also receive funding from the United Way of Steele County, Steele County Human Services, local churches, corporations, corporate foundations, and generous individual contributors. To donate or volunteer, visit Transitional Housing Steele County and The Hospitality House.
Homelessness at OHS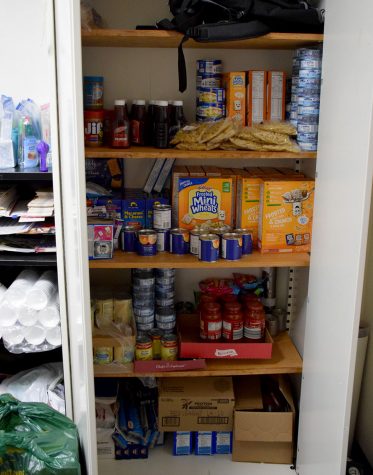 Homelessness is an issue here  at the Owatonna High School, currently, there are 26 known homeless students at the school. OHS Social Worker Mrs. Williams plays a large part in helping the students in need. When asked how she helps, Williams said,"I offer the following resources to them within the school setting: free breakfast and lunch, free school supplies, free winter clothing if needed, I tell them about my backpack program where I send food home with students in need in their backpacks every Friday to help them over the weekend."
The homeless definition for students through the Department of Education means they are not living with a legal guardian, or their family is temporarily "doubled up" with another family due to lack of financial resources. Any student who is "couch surfing" which means staying with friends and then moving to another friends and continuing to hop around, any family in a homeless shelter, staying in a hotel or is a migrant student is seen as homeless.
Some ways OHS students and staff can help is to donate to our December giving — All donations including money, food and winter wear will go directly to our students at OHS living in poverty and/or homeless. Donations that are especially needed are cash donations, food and hygiene products such as deodorant, body wash, shampoo, conditioner or toothpaste. Staff members and churches are donating food, clothing and cash donations on a pretty regular basis. Trinity Lutheran Church stocks the "Husky Pantry" each week so that students can bring food in their backpacks for the weekend and they also have their own "Husky Pantry" that Real Life students can access every time there is Real Life at Trinity.
For information on donating to these students, see the Magnet about the food and clothing drive at OHS.