Homecoming preview
Homecoming at the OHS is fast approaching and there are a few changes to the highly anticipated week, making this year one to remember. The theme this year is Rock 'N Roll Revival.
The homecoming committee has been hard at work in their coordination of theme and dress-up days. Senior Camryn Bartz is a member of OHS Student Council who took part in the planning process. Bartz said, "It's a different homecoming this year. We have some new dress-up days, not the same ones we're used to. There are a lot of different ways you can dress for these, and we'll see some new groups being represented."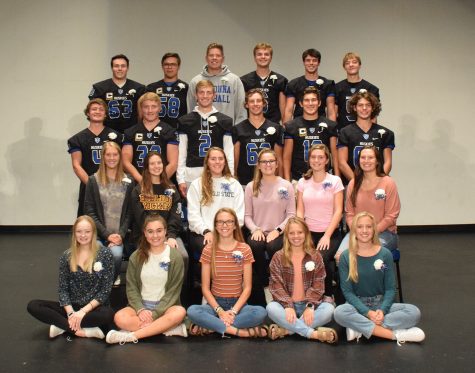 This homecoming will be full of exciting new changes. Replacing the past year's kickball game there will be a beach volleyball game from 7 p.m. to 9 p.m. at Lava Burger Monday, Sept. 30. The homecoming parade will be through downtown Owatonna starting at 1:30 p.m. on Friday, Oct. 4. The homecoming dance itself will be Saturday, Oct. 5 at the Owatonna Middle School. OHS Student Council Adviser, and head of the homecoming committee, Mrs. Sandra Justice, has also confirmed there will be a new DJ at the homecoming dance. Mrs. Justice said, "I am looking forward to the dance. It's a way to relax after a busy week."
Top 12 this year was announced Friday, Sept. 13 in the OHS auditorium. Homecoming Queen candidates included: Camryn Bartz, Carly Christenson, Julia Dallenbach, Kaia Elstad, Erin Holzerland, Liv Larson, Emma Loveless, Grace Randall, Elise Sande, Chloe Schmidt Josie Sullivan and Emilee Zirngible. Homecoming King candidates included: Jaden Dallenbach, Carter DeBus, Carson Dekam, Issac Gefre, Soloman Havelka, Isaiah Noeldner, Issac Oppegard, Logan Steckelberg, Zach Wiese, Ethan Walter, Mattew Williams and Dalten Wincell.
The Queen candidates moving forward to Top 5 are: Dallenbach, Elstad, Holzerland, Randall and Sande. The Top 5 Kings include Dallenbach, DeKam, Gefre, Noeldner and Steckelberg. The Coronation will be held on Monday, Sept. 30 at 9:30 a.m. in the OHS auditorium.