Let it snow
Each year, the Owatonna High School hosts a Snow Week that features many events and activities. This year, the activities consist of dress-up days and themed days. In the end, there is the crowning of snow week royalty. Seniors are selected by the student body and are dialed down to five king and five queen candidates who each have to perform a skit in front of the school. From there, the student body votes for their favorite performance and the winners are coordinated at the end of the week.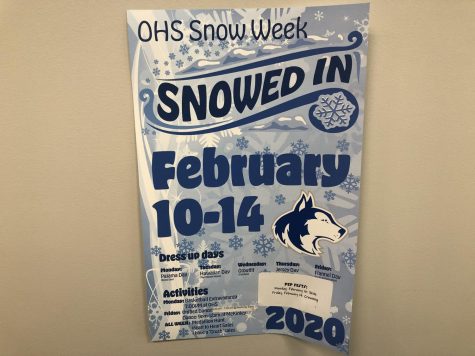 The dress-up days this year start on Feb. 10. On Monday, the theme is pajama day, Tuesday is Hawaiian day, Wednesday is Groutfits, Thursday is jersey day and Friday is flannel day. There will be a pep fest held on Monday, Feb. 10, where the top five will perform their skits in front of the school. Top 12 king candidate Leo Gantert says, "I think the best part of snow week are the dress-up days and just the overall energy during the week."
The following Friday, the King and Queen will be crowned for the 2020 Snow Week Royalty. Apart from the crowning and dress-up days, there will be multiple activities throughout the week. These activities include the Basketball Extravaganza held on Monday, Feb. 10 at 7 p.m. in the OHS gymnasium. Friday, Feb. 14, will be the Snow Week Dance at McKinley Elementary from 9-12 p.m. A new event being featured this year is the Medallion Hunt. Student council director, Mrs. Justice, said. "Throughout the week, there will be a medallion hidden throughout the school and each day a new clue will be announced. The student who finds the medallion will win a new 32 inch. LED display TV." There will also be Heart to Heart sales and, "I have a crush," sales. More info about these events will be announced at the pep fest on Monday, Feb. 10.