Tiger King: Murder, Mayhem and Madness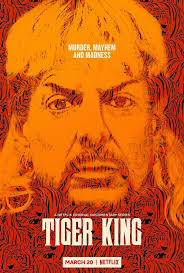 Millions of people have either heard about or seen the new hit Netflix series, Tiger King: Murder, Mayhem, and Madness. This documentary takes place in a variety of places with many different people but centers on Joseph Allen Maldonado-Passage, better known as Joe Exotic. Exotic runs an animal park in Garvin County, Oklahoma, where he lets customers pet baby tigers and tour his facilities. He has an ongoing feud with Carole Baskin of Big Cat Rescue as well as PETA. They have a back and forth feud for some time until, eventually, it gets out of hand when Joe allegedly hires somebody to travel to Florida and kill Carole Baskin. Joe eventually has a trial on the crime and brought to prison, where he is now serving a 22-year sentence.
Exotic is an extremely-self obsessed man who views himself as a movie star. He's constantly recording himself around the park and even had his own tv-show for some time, which usually consisted of him calling Carole Baskin out for exploiting her tigers or killing her husband.
Carole Baskin lives in Florida with her second husband Howard Baskin. The documentary portrays her as extremely well-liked and respected by many people for her efforts to help save big cats as well as other exotic animals. The odd part here is she is profiting off the animals just like Exotic is, minus the cub petting. The glaringly obvious fact about Baskin is that her first husband, Don Lewis, went missing. He had a suspicion that his wife would kill him and even told people if he disappeared to check her first. His body has still yet to be found and the investigation has just recently been re-opened in response to the release of this documentary.
This documentary has received a vast amount of attention due to the Covid-19 pandemic keeping everyone indoors. With nothing better to do, everyone's been on Netflix, and when Tiger King has released people went crazy. There are countless memes out there and conspiracies about the characters but there's one thing the audience knows for sure. This is far from over, many people throughout this docu-series did illegal things and we can assume more arrests will be made in the future. Tiger King has already reached number one in the U.S. and is a popular conversation starter. Whether it's through twitter, facebook, or Instagram, Tiger King is what everyone is talking about.